We found a phone system even worse than Verizon. Apple! Ever tried it? The sadistic system of call, hold, wait, never talk to anyone probably exists in most big corporations. We just happened to run into the Apple mess because one of our newsroom computers failed.
Our first reaction was outrage, after we called, sat on hold and failed to get help for 2 hours. So, we went on the internet and found that other people have suffered through the same unfortunate system with Apple. One comment said it really helps to be nice. So, we tried that. Back on hold. Three hours later, nice finally paid off. Two very considerate men dealt with our issue. Three hours is bad business.
Meanwhile, in Sacramento, news reports say that "discord over budgets will almost certainly worsen as economy slows…." Swell. Our legislators and Governor did manage to arrive at a budget, more than 80 days late. The LA Times reports that "the spending plan is expected to fall out of balance quickly. Come winter, emergency cuts will probably be needed."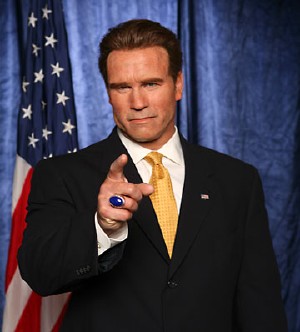 California Treasurer Bill Lockyer said, "It's the most irresponsible budget of the past half-century." Wow. Lockyer is the one who described what they do in Sacramento as "tooth fairy budgeting." Apparently the fantasyland nature of finances in our state's capital continues.
Here's another Draconian paragraph: "The spending plan that Governor Arnold Schwarzenegger may sign as soon as Monday pushes much of the state's $15.2 billion deficit forward. It employs accounting gimmicks and creates billions of dollars in corporate tax breaks with no plan for covering them." Double Good Grief! While the federal government claims the ability to bail out business with a trillion dollars, our state government appears on the rusty edge of failure with a $15.2 billion deficit still out there. The plan? To borrow against lottery money. Brilliant! Trouble is the banks are fighting for their own survival.
If Sarah Palin's foreign policy experience stems from her ability to see Russia from Alaska, does that mean the Bureaucrat Beat news staff could become astronauts since we do see the moon from our newsroom?
Maybe if the Mono Supervisors could see Mammoth Lakes from Bridgeport they would feel more simpatico. Supervisor Vikki Bauer has stepped out for South County needs, and they are many. Top on the list is some kind of jail facility in the Mammoth area. The 90 mile drive to Bridgeport jail from Mammoth means prisoners spend up to 3 hours in a patrol car, officers spend hours on the highway. In the winter, it's downright hazardous.
The Mono Board did, at least agree on a request for proposals to perform a jail needs assessment.
Seems odd, but the IRS just came out with the word of a first-time homebuyers tax credit. This, at a time when few will find themselves buying a home. Anyway, if you happen to buy a house for the first time, check out the maximum $7,500 available credit.
A hopeful note, at last. The Eastern Sierra community – first in Bishop, stepped forward to specifically donate blood for Mammoth's Dennis Domaille. Dennis, recovering from severe burns, suffers from a blood disorder that requires frequent transfusions. Dennis has served the community for many years and in many ways, including a seat on the Mammoth Community Water District board. Now, it's time for others to give back to Dennis. Another blood drive in Mammoth in October. More help ahead.
With that, this is Benett Kessler signing off for Bureaucrat Beat where we await your word on our lives in the Eastern Sierra and beyond.