One of our listeners had a good idea. All the whoopdeedo about edible medical marijuana – cookies, brownies, etc. Instead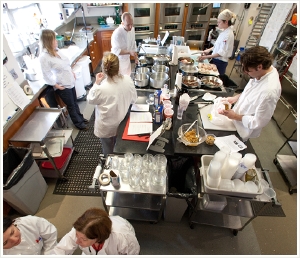 of the Mono Health Department and Mono County Counsel stressing about how much marijuana goes into a cookie, how about we go to America's Test Kitchen and do the real deal? We like this.
As some know, Cook's Illustrated lies behind America's Test Kitchen, which is a real 2,500 square foot test kitchen just outside of Boston. Three dozen full-time cooks and product testers test each recipe as many as 70 times. To quote their website, "Until we arrive at the combination of ingredients, technique, temperature, cooking time and equipment that yields the best, most-foolproof recipe."
Voila! Medical marijuana pastries that do the job needed! Hey, lots of people who suffer from cancer or chronic pain of one kind or another may not want to smoke joints. As long as it's the law, let's get on with it. Calling America's Test Kitchen!!!
And, calling out Mono County's District Attorney. That's what we hear in the community of Mammoth Lakes. We've heard such comments as, "Who runs the Town? The DA, the Town Council or the people?" DA George Booth has said he will come out with a statement on medical marijuana co-ops. When a prosecutor says something like that, it must mean a legal interpretation.
Citizens tell us they do not feel warm and fuzzy about what they perceive as a threat from the DA at the eleventh hour after the Town voted for the co-ops and officials went to a lot of trouble to come up with an ordinance and lots of rules. Other citizens have pointed out that the DA could have come forward as soon as the topic of marijuana co-ops went public. He was invited to more than one meeting with other local officials and law enforcement. Still others point to local political bents. Mono County voters did approve Proposition 19 to legalize marijuana. Food, or edibles as it were, for thought.
Also calling the Koch brothers – Hey, rich guys, what's with the spending of millions to stop efforts to stop climate change and to promote clean energy. Okay, so you're in the oil business, how many billions do you need? Word on the internet says the notorious Koch brothers want to find ways to end the Environmental Protection Agency's authority to protect our clean air and water.
Then, the Los Angeles Times reported that the Koch brothers have spent hundreds of thousands on congressmen who sit on the Energy and Commerce Committee to influence how they vote on energy regulation. The Koch's spent more than Exxon Mobil. Thanks to The New Yorker magazine for blasting the Koch's out of the closet into the light of day.
On to one of our website posts by Maurica who alleges that since Proposition 13 benefits corporate property, as well as private property, we should perhaps toss it out. Maurica claims corporations pay too little and that the required two-thirds vote to up taxes gives the minority too much power. Maurica, we will only say that private property owners need the Jarvis initiative. Yes, we do agree that the initiative process has been over used in California. That's part of the problem right now. Voter initiatives dictate how money is spent, so how can legislators make decisions? But, we still maintain the need for Proposition 13. Government does not need more tax money from property owners. Government needs to quit spending money on things that don't matter to us.
We heard from people who don't want to see political messages at the publicly funded Bishop Senior Center. The emailer wanted to know if it's legit for county facilities to foist Sarah Palin propaganda on users of the Senior Center. We hear that it is, in fact, not appropriate. By the way, we must say we really like writer-producer Aaron Sorkin's view of Palin – political bully, he says.
Mammoth Town Councilman John Eastman told a story that legitimizes air service subsidies, perhaps. He said he met a group of New Jersey ski club members at Mammoth Airport. They were headed to San Francisco International Airport to go home. They had spent a full week in Mammoth, had a great time. Said Eastman, "Those are the types of people who will use our air service." Couldn't agree more. Question is, who should pay for the subsidies? Mammoth Mountain wants the Town of Mammoth and the County of Mono to go thirds on the $644,000 for summer and fall air service. We have heard from residents that they believe Mammoth Mountain Ski Area should pay for the subsidy. The Town clearly has major problems because of its support of air service in the past and the County has money problems, too. The populus seems to want the Ski Area to help out this time.
With that, this is Benett Kessler signing off for Bureaucrat Beat where we await your word on our lives in the Eastern Sierra and beyond.