We in the Bureaucrat Beat Newsroom do not pretend we understand the back story of international politics. Hey, we just know what we see, read and hear. What we wonder about is the private conversation that President Obama had with Mexican President Felipe Calderon this week. Surely he had one or two.
What we would say is something like this: "President Calderon, let's face it. People leave your country by the millions to find jobs and to make money in our country to send back home to feed their families. We need to have a serious talk right now about your country, your economics and your plans to take care of your citizens. How can we work together to solve a mutual problem?"
Doesn't it seem like that's where the problem lies? It's a two-country problem, and there is at least a two-country solution. By now we should all know a fence along the entire border will not solve the problem. Neither will racist anger. We hope the leaders of our two countries will face reality and do something about it. No one has really done that so far.
Some wondered about the criticism that the Inyo District Attorney's staff lacks "collegiality". What's up with that, you say? In professional arenas, individuals may find themselves on opposite sides or in some type of adversarial scenario. Real professionals maintain civility and courtesy with each other. Bottom line – it's respect for the other guy even if you disagree with him. That kind of environment leads to good public service, smoother sailing in government departments, better human relations of all kinds, and more productive news stories. Slamming doors and delivering put-downs belong in the realm of kids.
This tidbit sounds like it comes from the realm of the Twilight Zone. Seems that researchers at UC Berkeley have gone to work on microscopic fibers that can produce electricity from simple body movements. The filaments, according to the Los Angeles times, may soon be woven into clothes and sold as the ultimate portable generators." Wow. You could plug your toaster into your pants!
One of our fans plugged in to today's problems – too much political correctness! Political candidates need to tell the truth and say it loud, even if it's unpleasant. Too many candidates' statements recently don't fight for the truth. Like our beloved editor John Heston used to say, "Tell what you know." Come on, you guys, get real!!!!
Citizens in northern Mono County pointed out to us that Bishop and Inyo County enjoy 24-hour law enforcement service, so do surrounding Nevada counties. Mono County is the only agency, they said, that fails to provide 24-hour service. These citizens point the finger at Sheriff Scholl.
Citizens in southern Inyo County point out that the League of Women Voters in Bishop are not the only group that organizes candidates forums. The Independence Civic Club has faithfully presented candidates and ongoing public issues at their meetings. We in the Bureaucrat Beat Newsroom give our thanks to Nancy Masters and her helpers who place civic and political issues out in front. We need that.
A few listeners/ readers told us they liked the science news that found people who wrote about their anger and sealed it in an envelope experienced greater relief than those who just jotted down what they're mad about and handed it to someone. The envelope trick works. So does sleep. New studies by the University of California at Berkeley show that longer sleep can help older people remember things the next day. Wow.
Here's a Wow of a different sort. Our Health Officer Dr. Rick Johnson sent us a health warning about mercury in homemade face creams from Mexico. The creams have no labels. Toss them. It's bad news. The warning says take the face creams to a household hazardous waste collection site. Check with your health department for more.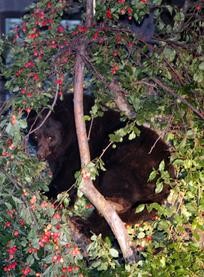 Here's a story that shows you can impact a bureaucracy. In the face of angry opposition from animal rights groups and Democratic lawmakers, the California Department of Fish and Game Director John McCamman indefinitely withdrew a proposal to let hunters increase the number of black bears they kill each year by 50% or more.
Bear hunting regulations will remain the same. The Director said that Fish and Game received "lots of comments. It forced us to re-look at the document we were sending to the Commission," he said. Nice to know the people still count.
With that, this is Benett Kessler signing off for Bureaucrat Beat where we await your word on our lives in the Eastern Sierra and beyond.