In the Poor Baby Department, the State Legislature whined to Attorney General Jerry Brown recently that the bad old State Compensation Panel would illegally cut their pay following next year's election. This, after they whacked and slashed benefits for the poor, education and help for the elderly. The AG not only disagreed with the whiners, he told them their 18% pay cut should start next month. Go, Jerry!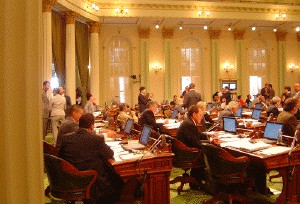 All we can say is those derelict officials, who have so poorly managed our state, have a lot of nerve trying to escape a pay cut themselves. The head of the Compensation Panel, Charles Murray, is quoted as saying, "We're broke. This cut needs to happen now. It's the right thing to do." All of the cuts, which include the AG, Treasurer, Governor, Lt. Governor, etc. will save almost $3 million a year.
Governor Schwarzenegger does not take a salary. Nobody has cried the blues but the Legislature. They got us into this mess and should face, not just a pay cut, but firing.
Stan Smith of Bishop suggested a bumper sticker for the environmentally inclined in Mammoth – "Please Don't Feed Our Jets." Very, funny, Stan.
One more Stan Smith story. Seems he, wife and friends were golfing at Bishop Country Club when they witnessed a man who pulled off the highway, got out and started screaming at the top of his lungs. Stan didn't think it sounded right. He called 911. The Sheriff and CHP chased the guy who had tossed a woman out of his car. Officers also found illegal drugs and fireworks. Pays to get involved, as Stan noted. He and his wife, Barb, recently testified in court.
Thousands have now become involved in an organization called Feeding America. The charitable organization delivers food to 25 million low-income people every year. The food goes to 200 food banks in all 50 states. The CBS Sunday Morning Show featured Feeding America whose officials said that statistics show that one in six Americans are unsure of where their next meal is coming from.
How has this happened in our wonderful country? Put in nationwide statistics, the government said 49 million Americans don't know the source of their next meal. 17 million of those are children. We in the Bureaucrat Beat newsroom believe that the obscene fat cats – the few of them who hold all the money – have deprived the many of basic needs. There's just so much money, and too few have too much. Shame on them. Locally, the Salvation Army and IMACA do a lot to feed people. We can help them.
Can anyone help Sacramento? Doubtful. The Los Angeles Times reported a series of blunders by State officials. In 1994, the then-governor pulled the plug on a DMV computer project after the state spent $50 million on a system that never worked. In 2001, State officials awarded a contract without competitive bidding for $95 million to Oracle Corp. for software that was hardly used. State officials predicted that a centralized computer system for California's courts would cost $260 million and be done this year. Instead, the project won't be complete until at least 2013 and the cost has expanded to $1.3 billion! The stories go on and on, millions after millions down the tubes. Are we simplifying matters too much? Or does it seem like the money trouble in State government could have been avoided with prudence and a great reluctance to spend money on unproven plans.
Back to hunger. Somebody said the other day that all the talk about hungry people is just a bunch of liberal chatter. Hello! Enough with the labels, already. Too many people prefer to interpret life through political parties or attitudinal bents. Hey, how about we try to look at reality. 207 individuals went to the Salvation Army food pantry in Bishop for help in October. Nothing political about that. People need to eat. Let's feed them.
With that, this is Benett Kessler signing off for Bureaucrat Beat where we await your word on our lives in the Eastern Sierra and beyond.