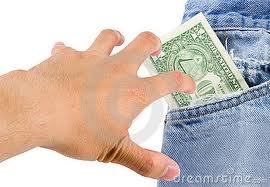 So, now what? Has California government turned into organized pick pockets? That's what we hear. The bureaucrats seem to have marching orders, or at least the will to keep their own jobs, so they have launched a mean effort to squeeze every fine, fee, penalty and tax out of the people.
Example number one. One of our listeners called to say that he bought a specialized hot tub in Canada five years go. Now, the state wants him to pay tax on it and a penalty – a total of 10% of the price of the item. "Now that California is broke," said the listener, "they want to charge us." Seems they can go back 8 years through customs records and send us a bill.
The broke government part has led to those with government pensions. The Governor wants to end Airtime = purchase of additional retirement service credit. Government would stop contributions for employee retirements in whole or in part. No retroactive pension benefits. Felons get no retirement. That's just the beginning. Life as we have known it now looks like a thing of the past.
And, now for comic relief. Last Friday, April Fool's Day, Mono Supervisor Hap Hazard emailed around a proposed resolution he said would come up at the supervisors' meeting. We eagerly opened the email to see what Hazard was up to. It was an ordinance to protect bacteria in waterways of Mono County, entitled the Endangered Alien Species Act of 2010. The resolution pointed to NASA scientists who had artificially created an alien life form found in Mono Lake. Scientists want to take the bacteria for experiments. You get the picture. Science fiction to the max. We like officials with a sense of humor. Hazard had us for a minute.
We don't like officials who sabotage other politicos and then blame them for failure to serve the public. Case in point. The California Republican Party has issued a new YouTube video that attacks Governor Jerry Brown. A CRP spokesperson says Brown ran for governor on the promise that he could bring both parties together and "solve the budget crisis." Then they accuse Brown for failure to solve the budget problems in the three months he has been in office. The CRP interprets reality as Brown killing off budget negotiations, putting a wedge between Democrats and public unions and trying to force voters to make the tough decisions themselves.
Hey, CRP, we voters want to make the decision!! Get out of our way!!!!!
For the down to earth animal point of view, we decided to ask Tuxedo the Cat. He kind of snorted and whispered that all of those politicos in Sacramento have three things in mind – me, myself and I. Tuxedo expressed relief that he doesn't have the right to vote.
The state of local health? The Robert wood Foundation and researchers from the University of Wisconsin have issued a website that ranks California counties in terms of health outcomes. Inyo County sits in 50th place out of 56 counties. Inyo shows 23% adult obesity, a higher than average teen birth rate, 24% uninsured adults, 18% children in poverty. Mono County sits 34th out of 56 counties for overall health outcomes. Mono shows 21% adult obesity, A lower than state average teen birth rate, 31% uninsured adults, and 14% children in poverty. If you want to know more, go to www.countyhealthrankings.org.
Speaking of health, The Food and Drug Administration came out with proposed rules that would require some restaurant and fast-food chains to post the calorie count of standard items on their menus. These rules would also apply to vending machines, coffee shops, convenience and grocery stores. The FDA did let movie theater popcorn off the hook. We all know the buttery, lusciously greasy, salty popcorn packs a big calorie punch, but the containers don't have to admit it.
With that, this is Benett Kessler signing off for Bureaucrat Beat where we await your word on our lives in the Eastern Sierra and beyond.