"From city halls to county courthouses, from the State house to the White House – bureaucrats control our lives.  Public servants who often try to become our masters.  People whose salaries we pay, but what goods and services do we get?  On Sierra Wave's Bureaucrat Beat, we'll report what they're up to."  That's the Bureaucrat Beat declaration of dissatisfaction, but as you may know, Bureaucrat Beat talks about so much more.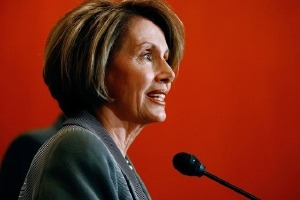 Hey, maybe the Town of Mammoth Lakes should give Nancy Pelosi a call.  Internet reports say she has raised more than $43 million dollars in campaign funds for the Democrats, attending nearly 500 fundraisers.  That's the magic number that rips Mammoth apart from the inside out. Maybe they could pay Pelosi a commission and get this mess over with.
For some, a new mess has arrived.  Edison's smart meters.  The Edison guys say this is no big deal and customers will be able to "manage" their electricity use.  Hey, maybe it will be fabulous.  Problem is – does anyone relate the word fabulous to the words power company????  Real story – they will start to charge us way more for using power when we really need it – heat of the day, cold of the night.
Inyo's County Administrator Kevin Carunchio delivered tough news to the Board of Supervisors.  He said, "Days of building jails and throwing people in them are gone."  Okay.  Bottom line – it's all  very expensive. Carunchio said,  "If we increased our jail by one bed, we would go to another level of costly requirements.  Small counties will have to pull together wherever possible."  The Bureaucrat Beat Newsroom has advocated Inyo-Mono functioning like a region for the good of all, but stiff-necked provincialism has blocked cooperation in a number of ways.
We discovered a new level of Hell last week.  Prospective jurors at the Inyo County courthouse squirmed as they waited and waited and waited to even be interviewed.    Seems the Court summoned 90 possible jurors for Monday, some of whom had to drive to Independence four days in a row before Judge Lamb excused them.  We all love justice, but isn't there a more thoughtful way to use up a citizen's week in these very difficult economic times?
Did you see the NBC Evening News the other night?  The segment on how someone placed a tiny video camera around the neck of a pet cat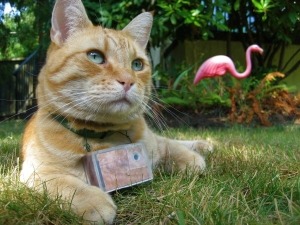 revealed what we mostly would rather not know – where cats go and what they do.  Yakkkkkkk!  Bird legs dangling from their mouths.  A foray into the sewer.  Hey, maybe pre-nuptial agreements could include a neck camera for the hubby.
Somebody suggested the other day that to relieve America from the fact that our country incarcerates more prisoners than any other country in the world, make white-collar criminals live under house arrest.  They could also wear one of those cat cameras around their necks.  A lot cheaper than prison.
They finally went too far in Washington.  Gee, what a shock.  A federal judge struck down part of a law that gives government wide powers to detain, interrogate and prosecute suspected terrorists without due process.  The judge said the law is too vague and leaves journalists, scholars and political activists to face the prospect of indefinite detention for exercising First Amendment rights.
President Obama said he really had reservations but signed the detention act anyway.  Yeah, like Mitt Romney who said he never meant to hurt his classmate when he forced him down and cut off all his hair.  Okay.  Honesty is just a tough concept for politicians to grasp.
An honestly frustrated customer suggested that voice menu's of many companies should say:
Hello, you are about to have a bizarre experience.
Press 1 for the first level of Hell.
Press 2 for entrance into a maddening nightmare.
Press 3 if you enjoy conversing with a robotic voice.
Press 4 if you are a masochist.
Press 5 if you are a sadist. (We'll give you the home address of the incompetent person you're about to talk to.)
A Mammoth Lakes caller to the newsroom said, "Hey, do I need to get permission from DWP before I water the lawn?"
With that, this is Benett Kessler signing off for Bureaucrat Beat where we await your word on our lives in the Eastern Sierra and beyond.