Someone from Big Pine told us the other day that the phone company came in and yanked out all of the pay phones. We were actually surprised that there were any left. Verizon pretty much denuded Bishop and Mammoth of pay phones earlier. They told us the phones just weren't making enough money.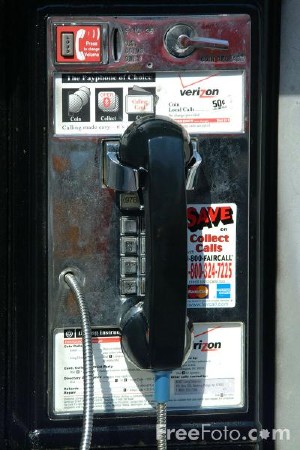 We posed that public service in a business like phone communication should require leaving some phones in place for people who don't have cell phones. They may have an emergency and need help right away.
Lots of public interest in the Mono County Grand Jury report. As we reported, the court will release it to the public Monday at noon. Following that, you can check it out on the court's website. We'll link our website story to their site.
As if business and local government don't have enough financial challenges, more regulations weigh down on them. Under the threat of state regulations, the City of Bishop Public Works Director Dave Grah required new conditions for those who build new asphalt parking lots. They must install a costly mechanism that separates rain water from oil residue.
Does rain water and debris really contaminate water ways? That's not clear, but the State thinks so and could come down hard on Bishop, according to Grah. So, whether it's needed or not, local businesses and Northern Inyo Hospital must pay for these mechanisms as part of their parking lot projects.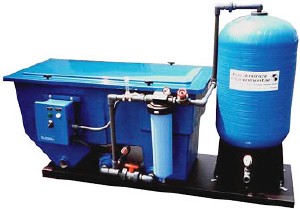 The new street projects in Bishop include these separators at $30,000 a piece. Northern Inyo Hospital will pay $80,000. We're all in favor of environmental protection, but this seems excessive. We're tired of bureaucratic tyranny.
What to do about the budget for the Town of Mammoth? The current economic atmosphere points at more cuts. Mayor Pro Tem John Eastman carefully analyzed the available reserves for the Town and found that they're down more than $3 million in the last two years. Eastman doesn't want to spend reserves down to nothing.
He said it appears that the hoped for $1 million from a sale of land to Mammoth Hospital won't happen. Eastman said he doesn't want to be a doomsayer, but wonders if the economy could deliver more surprises. "We have to adjust our budget as we get information," said Eastman. "We can't speculate. We need to face reality."
That's a tough one right now.
The universal watering hole, better known as the internet, offers some pretty interesting gatherings of comments. Check out our website and current comments. Some people are fairly flip, others quite thoughtful.
Here's a combination of flip and thoughtful. One of our listeners marveled at how Caltrans is able to keep spending money on highway projects that seem non-essential. This in the face of lost health benefits and other help for the elderly and poor. The caller specifically pointed at the project on Sherwin Grade. He then concluded that "Every Caltrans District Director wants to build his empire." Maybe so.
More from the AARP on healthcare myths. The AARP says it's a myth that healthcare reform will allow government to ration healthcare. The AARP says this: "There is nothing in current proposals that would give government the power to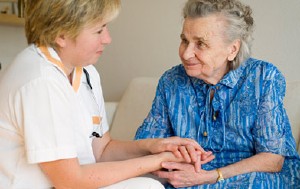 override the judgment of your doctor's treatment recommendations, and AARP would fight against any measure that would prevent doctors or hospitals from giving the best possible care to their patients.
"These rationing claims," said AARP, "refer to doctors and patients having the ability to compare different kinds of treatments to find out which one works best for which patient. Opponents of reform – like drug companies – don't want this research because they fear it will cut their profits on ineffective drugs."
We're sad to hear that Governor Schwarzenegger cut another half million from the budget plan which will directly hurt the poor, infants, the aged and the disabled. Something is very wrong when that's the only solution. Hey, maybe it's not the only solution. Did the fat cats in Sacramento really cut their pet programs? The ones they want to keep so they can still rake in campaign contributions from special interests? We don't think so. The poor, infants, the aged and disabled just don't have enough bribe money.
With that, this is Benett Kessler signing off for Bureaucrat Beat where we await your word on our lives in the Eastern Sierra and beyond.