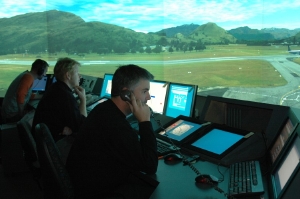 To continue on a bizarre theme, new revelations about air traffic controllers. Not only does the one and only controller at night go to sleep, apparently frequently, they also try to stay awake by watching DVD's. The beleaguered air traffic controllers are truly of the damned if you do or don't category. One guy was watching a DVD and accidentally hit his microphone so all of the pilots could hear the loud drama but could not call in to the control tower. Wow.
Clearly, Air Traffic Control has come under a bad sign. We can only hope that the sleeping and the movie watching have not led to airplane tragedies nor will. Hey, maybe the FAA should assign air traffic controllers to some engaging task while they are there. One that is easily interrupted with calls from pilots. The FAA could ask the controllers about their hobbies. Say, one guy likes to do oil paints. Let him bring in his easel and brushes and create!!! Clearly they need to think out of the box on this one.
As one local man said, "Do they ever think, gee, if I fall asleep 600 people may crash mid-air?" They do make $100,000 a year, plus. Hey, maybe the U.S. should outsource air traffic control to India. You know, set up a web cam at the airport and have the guys in new Delhi watch the action and talk to the pilots. I bet they'd stay awake. They need the work.
One more note on the no-show of Department of Water and Power general manager Ron Nichols at Inyo's airport ceremony. Comments we have heard did not like, as they saw it, being stood up by LA. They also don't like it that after something like 30 years of negotiating, LA refused to let Inyo develop an industrial park at the airport and only allowed aviation development. Just like LA to say, here have your piece of cake but we'll keep the icing!!
How's this for bizarre??!! Researchers said they found that California children have 7 times more flame-retardant chemicals in their blood than children born in Mexico! The flame-retardant chemicals saturate the stuffing of millions of couches. The chemical can affect thyroid levels and other problems. Gives new meaning to couch potato!
The State of California gives new meaning to flagrant abuse!! According to headlines in the LA Times, the State Controller found that state agencies have been loaning money to employees who never pay it back. They owe California taxpayers something like $13 million. Governor Brown has put a stop to the practice and called foul.
Hey, if it helps to rub elbows with power, the Mammoth Community Foundation may have a bit of luck. Foundation Chair , former LA Deputy Mayor Austin Beutner, will apparently run for Mayor. Former LA Mayor Richard Riordan has publicly backed Beutner.
Love your IPhone? Beware Big Brother. Seems Apple's devices track your movements. As MSNBC's Joe Scarborough said,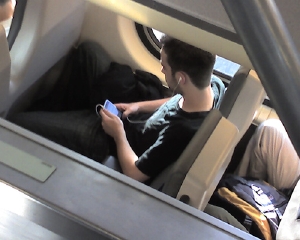 "We're not worried Apple will download our whereabouts. The government is the one we're worried about."
Back to the no-show of DWP's General Manager Ron Nichols at Inyo's airport ceremony, there was another no-show. The Mammoth Lakes Town Council. Inyo invited them, but, hey, it's kind of a slap in the face, as Mammoth sees it, for Inyo to show off it's good airport news. Mammoth should be so lucky!!!
With that, this is Benett Kessler signing off for Bureaucrat Beat where we await your word on our lives in the Eastern Sierra and beyond.