You can imagine the looks of horror on the faces of the Bureaucrat Beat newsroom staff when we reached for the Los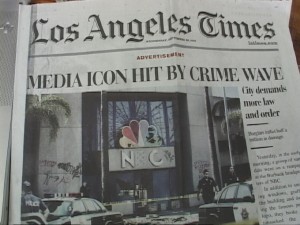 Angeles Times Wednesday. Yes, we still read actual newspapers – the ones made of actual paper pages that you turn with your hands. You can smell the ink and crumple the pages back and cut out articles you want. All right, enough of that. Back to the horror.
We noticed right away that the body copy type was bigger than usual with more spaces between lines. What's up with that, we wanted to know. The headline styles were way different, too. Kind of tabloid-like. Here comes the horror part. On top of the front page headline in red ink sat the word "advertisement". Whattttt!!!!!!
Oh, yes. The entire front page and three more pages inside the LA Times were an advertisement for "Law & Order-Los Angeles", a new TV show. OMG. Some of you probably saw it. One of the staff said, "Well, things will never be the same." For those who don't remember, there was a day when news and the ad department didn't even look at each other, let alone place their products in indistinguishable proximity. There was never a question, is it news or is it an ad? We knew what was what.
This matters to all of you out there whether you read newspapers or not. It means the ability to protect news from financial interests has slipped. Just like the Club Washington, D.C. where special interests buy Democracy for themselves. Hey, we all have money problems right now. The economy stinks and it's tempting for some to sell out. Readers beware.
At least the Federal Trade Commission has not yet sold out to all food products that claim medical miracles. The FTC has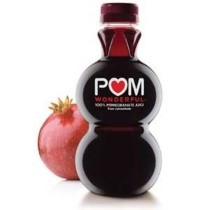 charged Pom Wonderful, the popular pomegranate juice, with making false and unsubstantiated claims about the power of their drink. Pom Wonderful has taken credit for prevention or treatment of heart disease, reduction of risk for prostate cancer and a cure for impotence. Wow. We had no idea.
Company officials claim the government is "wasting taxpayer resources to persecute the pomegranate." We will repeat our newsroom advice – do your food research at home not when you read packaging at the grocery store.
Someone else you might not want to trust – federal law enforcement and national security officials who want to wiretap the internet with greater ease. Hey, we support law enforcement but we get edgy when we hear wiretap.
A story in the New York Times says that security officials want Congress to require all services that enable communications like BlackBerry, Facebook, Skype and others to be "technically capable of complying if served with a wiretap order. That means the ability to intercept and unscramble encrypted messages. What the U.S. does will likely influence what other countries do. It's a classic privacy versus security issue.
Just about a month away, the November 2nd election. Once more, California voters must face decisions on propositions and initiatives. Several newspapers have already gone on record to oppose Proposition 21, an increase in the vehicle license fee to help parks.
News editors form the LA Times, San Francisco Chronicle, Orange County Register, San Diego Tribune, Oakland Tribune and others say vote no on Prop 21. They point out that an increase in taxes should not be tied to one thing since other programs in any given year may need the money. The LA Times pointed out that while parks are important, what about all of the other budget priorities that have taken major hits.
With the state budget in the biggest mess ever, we have to agree. We need a new day in Sacramento not just the old raise taxes for favorite programs routine. We're in serious trouble. We still like the idea of a part-time legislature. We would save money and with elected officials not busy messing things up all the time, we would probably function better.
With that, this is Benett Kessler signing off for Bureaucrat Beat where we await your word on our lives in the Eastern Sierra and beyond.