Headline in the Los Angeles Times "Republicans take Twitter and make it their own". The article also quotes the Whitehouse as rapturous when their followers topped the million mark.
We are so thrilled for the politicos. They sure like to talk, don't they? They probably think tweets stand right next to votes. Who knows, maybe they're right.
We began to wonder about the uniqueness of humans when we read in one of our science magazines that many species,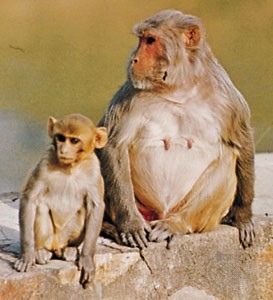 including chickens, exhibit an innate mathematical ability. To live is to count, more or less. In fact, according to Scientific American, "Monkeys could sometimes outperform college students." All righty, then, what a slap in the face for schools and families. Even baby chickens could identify numbers of things. I wonder, do you have to pay monkeys minimum wage?
Ooooo, that's harsh, but don't be surprised if the check-out clerk looks a bit hairy one of these days. For those human-types who feel a bit of low self-esteem about now, another article re-assured the reader (as far as we know monkeys don't subscribe) that the human mind does lay claim to abstract thought and combination of ideas, for those who bother to work on their innate abilities.
Wrap your brain around this. The United States health care system forces 700,000 Americans into bankruptcy every year because of medical bills. There are zero medical bankruptcies in France, Britain, Japan and Germany. All of this according to the Washington Post. The same article asserts that "Almost all advanced countries have better national health statistics than the U.S. does."
We like what Ted Kennedy said some time ago – that in a country like ours health care should be a right, not a privilege. Speaking of Kennedy, some locals expressed deep disappointment that not all towns lowered flags to half-mast for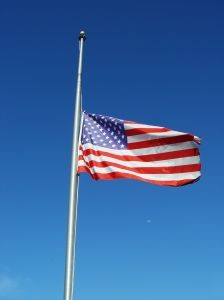 Kennedy's death and memorial over the week-end. We did notice Big Pine's large, beautiful flag and one or two more in town flew at the half-way point. We're not sure about each town's decision. One of our callers speculated that the local, republican sway may have nixed honors for Kennedy. We hope that's not the case since he did work hard for the common man, across party lines.
Back to monkey business. We just opened the mail and Cerro Coso College has quite the Fall line-up of classes. From Art to English, Economics, Computer Science, Math, History – just to name a few. The Inyo County Schools office offers free adult classes. We in the Bureaucrat Beat Newsroom may go for the Home Repairs and Maintenance for Beginners course. The newsroom, no longer a modern, spiffy facility, falls into plumbing and electrical disrepair from time to time. We like the idea of self-sufficiency.
So, the other day we decided to check out Main St. in Bishop and Mammoth Lakes. Very different experiences. While we like the air and the views in Mammoth, we much prefer the sidewalks and safe-going in Bishop. Crosswalks in both towns are not particularly pedestrian-friendly. Of course, Mammoth is currently at work on new plans for Main St. That's good.
Some folks now say that Los Angeles owes the Owens Valley reparations for all of the lost trees, lost private ranches, lost wildlife, lost environment. We're pretty sure LA officials will not respond well to that idea. How about annual money to run Klondike Lake? A small percentage of the money transferred from DWP to the LA general fund every year would do.
With that, this is Benett Kessler signing off for Bureaucrat Beat where we await your word on our lives in the Eastern Sierra and beyond.