In search of Mickey Mouse via cellphone? Yep. No limit to how we can track just about anything with electronics. Disney Land's new deal with Verizon will make it possible for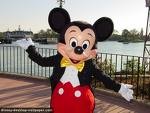 Disney Land visitors to plan and track features on their cellphones. Hey, maybe Mammoth Lakes could do this? Instead of dialing M for Mickey, tourists would dial c for cross country skiing and r for restaurants. Cool.
Uncool – those computerized and recorded messages that pop right on the phone when you answer it. That's just downright rude. Who wants to say hello and then hear a computer start to talk to you about some annoyance or another.
Bureaucrats did figure out that three companies were fixing prices on computer and TV screens. Nice. The companies will pay $600 million in fines – apparently to the government. Hey, what about consumers?!? We're the ones who overpaid.
Have we over-reacted in America? Before the election, quite a few wondered and feared that the Presidential vote would somehow fall to fraud and dirty tactics. The results made such fears non-issues. In California the issue of privacy at the polls did come up.
An article in New Yorker magazine recounted the history of American voting – downright violent back in the 1800s. Plus, it seems the founding fathers considered casting a secret ballot "cowardly, underhanded and despicable." Wow.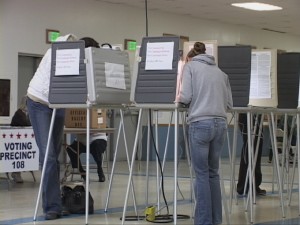 Makes our picky, privacy-demanding populus seem, well, spoiled. A visitor to the Bureaucrat Beat newsroom suggested that people like secret ballots so they can vote for whom they want and not suffer public consequences in business or personal circles. Apparently our forbears were not so concerned about what others think.
In internet circles, this news surfaced. The group, Citizens Against Government Waste named Federal Communications Commission Chair Kevin Martin as the October Porker of the Month for use of FCC funds to sponsor a NASCAR driver from his home state. As a result, the FCC will pay $355,000to sponsor David Gilliland's number 38 car, owned by Yates Racing to supposedly raise awareness about the future switch to digital TV in February.
As if the very fates disapproved, Car 38 crashed into a wall during the first race with the new ad. Others noted that the FCC had already placed numerous ads in earlier months about digital conversion. Seems FCC Chairman Martin made the unilateral decision to sponsor the NASCAR racer without full Commission approval. That kind of thing needs to stop. Use of taxpayer dollars for whatever personal reason some bureaucrat might conjure up.
Speaking of exploitation of tax dollars, now U.S. Treasury Secretary Henry Paulson says the $700 billion bail out will not buy up bad mortgages to save American homes. The money will buy shares in banks. So, we, the American people, will own banks. Seems applications are out there for anyone who wants to apply for what the government calls Troubled Asset Recovery Program. Talk about Twilight Zone.
Why aren't the Inyo Supervisors so concerned about freeing up land around Inyo towns as they are keeping land out of Wilderness? The land around the towns has, perhaps, a far greater impact on the lives of all citizens.
From Big Pine, south in Inyo, people and communities are hurting – bad. Schools suffer. Services diminish. Independence has no grocery store. It's all about a lack of even modest growth.
In the federal government, it's a case of totally immodest growth. The feds now employ 14 million people, including the military and postal service. The numbers went way up over the past 8 years.
One more federal government note. How about those stimulus checks. Another round recently went out. Many amount to $600. Seems like pathetic pocket change compared to what the big investment banks have received. Let's hope for some serious balance in our society in the near future.
With that, this is Benett Kessler signing off for Bureaucrat Beat where we await your word on our lives in the Eastern Sierra and beyond.