We are reminded today of the famous quote from Shakespeare: "First, kill all the lawyers." He spoke of the best way to approach just about any situation. The killing was, of course, metaphorical.
Inyo County's judge race could benefit from Shakespeare's advice. Or, we might also refer to a new lawyers' joke: How many lawyers does it take to muck up an election? Answer: never enough. They just can't agree on one form of manipulation.
Seems the Inyo-Mono Bar Association (that's the club for lawyers) had met of late with uncharacteristic attendance by the District Attorney and his lawyers, one of whom is running for judge. The purpose – to conduct a secret vote denouncing Judge Brian Lamb. Another lawyer is running against Lamb, too.
So, after tension-filled sessions, a narrow margin opted to take the nasty vote. When the results emerged from the cloak of secrecy, 8 lawyers said they don't like Lamb. 5 lawyers said they didn't want to make a statement and 10 lawyers refused to vote altogether.
Wow! What a mandate. The manipulations then lept into the release of this momentous information to the local news media. Seems the head of the local Bar called only the newspaper to give them a heads up on the astounding data. Did they fear the sharp tongue of Bureaucrat Beat? Maybe they never heard of us.
In other predictable news of the day, the Governor and his cronies did a sharp reversal from promises to pose new taxes to make up the $20 billion budget short fall. Lawyers won't like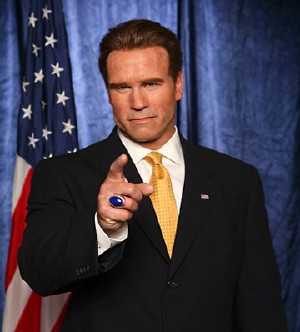 this one, either. Seems the Gov's staff has proposed new taxes on lawyer and accountant services, on golf lessons and personal trainer sessions, on take-out coffee and other prepared foods. Wow. It'll take a lot of cappuccino taxes to add up to $20 billion.
An article in the Los Angeles Times says another plan would hit all entertainment purchases – with new taxes on tickets for movies, theater, sporting events, amusement parks and (ouch!) ski lift passes, plus greens fees. State tax officials say this could raise $1 billion. Taxation on service providers – from lawyers to hair stylists – could raise $8 billion. Maybe that's why Arnold paid a visit to Mammoth Mountain.
Speaking of skiing, MMSA CEO Rusty Gregory told us that this has been a good year at the Mountain. Weather did not accommodate skiing in January – huge wind and all – but Rusty says skier numbers will zip way above last year with over 1.2 million visits. Hey, it's not the best year, but pretty good. Rusty said demand was off some with the economy and gas prices doing what they do. Taxing lift tickets will not help.
Why not just tax all of the bureaucracies' foolishness. Oh, wait a minute, that's just taxing the taxes. They just seem so deserving of taxation!
Latest bureaucratic fear? The banner that, for decades, has informed many of us about upcoming events in Bishop. Seems in all of the crazy wind lately the banner blew down with a cable dangling onto Main St. Oh, heavens!
That's the end of that. This is kind of like Inyo County's policy of hacking down a tree if it drops one branch. Seems Caltrans will likely now require the City of Bishop, or whoever, to get a permit for a banner or replace the aged poles that hold the banner or none of the above. Seems current codes are more stringent than when the poles were stuck into the ground on either side of Main St.
It's nice to see bad boys at least get their hands slapped. Seems Chris Ward of San Clemente was relegated to last place on the elite pro-surfing World Tour. The 29 year old Ward was a big star on the World Tour before he was arrested in Mammoth Lakes for allegedly assaulting three women with a block of ice. Wow, what a brave guy. Seems he'll have to hit the waves hard to get a high World Qualifying Series standing to participate.