How many lawyers does it take to rank a law school? Apparently more than 100. Those of you who have your favorite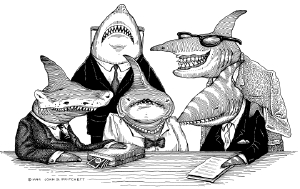 lawyer jokes or have been mugged by an unpleasant legal issue will like this one. Proof that a fair share of lawyers make things up.
One of our listeners shared a story in the New Yorker magazine, called "The Order of Things – The problem with college rankings" by Malcolm Gladwell. The college rankings debunked story says a former chief justice of the Michigan supreme court sent a questionnaire to a hundred or so of his fellow lawyers. He asked them to rank a list of ten law schools in order of quality. Harvard, Yale, University of Michigan sat at the top of the list with lesser-know schools at the bottom. In the middle sat Penn State. Penn State has no law school.
This says the lawyers had too much to do to check facts (scary thought). Or, as a matter of course, they make things up. Either way, one more reason to live the clean life and avoid the notoriously slippery courtroom floor. Also, don't put much faith in college rankings.
We could actually believe in George Soros. Unusual for a multi-billionaire. He's one of those but with a conscience, it would seem. Fareed Zakaria interviewed Soros on CNN. Soros survived the Nazis in Hungary, got rich on Wall Street, set up a fund for black students in South Africa, supported rebels in communist countries, helped the disenfranchised voice their views, promoted human rights, and rule of law. According to reports, Soros has given over $8 billion to support human rights, freedom of expression, public health and education in 70 countries. Hold it! That's like the job of a country. Like our country!!
It's the job of our locally elected officials to do what's right for the people. Inyo Supervisors and the Bishop City Council should have and still should plunge into a serious effort to attract light industry here and at the same time get more land from LADWP. Inyo's market suffers from anemia. We need just a few more people. Rampant growth will not happen, but come on, some growth needs to. Not one of the Bishop City Council candidates caught onto that when we asked them about more land from LA. What's your re-development agency for?
As one Mammoth man said of a New York Times travel story on Mammoth, "Wow. I guess we really are a resort!" A New York Times article, "36 Hours in Mammoth Lakes, Calif." Spends many column inches on details of familiar places – hot springs, Tamarack Lodge, the Stove, Black Tie Ski Rentals, skiing, dining, drinking, and working out. So, I guess this means New Yorkers will hop the red-eye to San Francisco and bump on over to us. You'll know them. They have an accent.
Speaking of speech, according to researchers who spoke at the annual meeting of the American Association for the Advancement of Science in Washington, D.C., adults who speak more than one language do a better job of prioritizing information in potentially confusing situations and being bilingual helps ward off early symptoms of Alzheimer's disease in the elderly. Ola, hombre!
A Bishop man called for jury duty recently gasped when he saw how packed the courtroom was and how people blocked all exit aisles with chairs. This prospective juror said when he mentioned the concern about emergency exit, he saw only blank stares and mumblings of "That is the way we've always done it." The citizen gasped again and wrote to us that "Why is it that people have the attitude unless something bad happens we won't do anything to change even if it means they are breaking laws established based on past events and hazards.
We know the old courthouse has issues, and sadly the Administrative Office of the Courts refused to refurbish it. It's more modern, they might say, to abandon the old and spend jillions of dollars somewhere else. In the meantime, it does seem easy to leave aisles clear and unobstructed. Good point, Rick.
And, now, a tidbit of news from Sacramento where special interest groups spent a reported $538 million on professional lobbyists to influence the passage or defeat of bills last year. State and local governments spent the most – $89.3 million. The healthcare industry spent $61.5 million. Manufacturing and industry, $50 million; education, $37.6 million.
There's more. Special interest groups gave lots to legislative candidates in the state. Construction unions spent $5.4 million; attorneys and law firms spent $3.6 million, state and local government employee unions spent $2.5 million. Find the whole list on the Secretary of State's website, if you dare.
With that, this is Benett Kessler signing off for Bureaucrat Beat where we await your word on our lives in the Eastern Sierra and beyond.