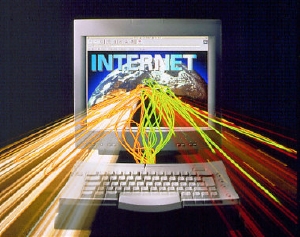 How's this for disgusting. As you try again to navigate the internet – fast- it goes slow. Then you finally read an article in the New York Times about how Hong Kong gives residents "astoundingly fast broadband at an astoundingly low price." They're talking a gig of broadband for $26 a month. Grrrrrr!!!! The worst part about this article centers on the news that we here in the U.S. could have this too if only the FCC would allow several companies to share installation of fiber in the ground and then compete on the basis of services. This would mean multiple competitors and lower prices. But, according to the article, the FCC doesn't want to allow this.
Why not? Well, maybe because its pals in the broadband business like the monopoly style of business. More money for fewer companies who then can provide less than stellar service. America gets less for more than much of the rest of the world because our system allows two or three companies to dominate the field for huge profits. Greed rules in the U.S.
It take a lot of work to maintain credibility. After last week's story on the Mammoth-Yosemite Airport, a past employee's allegation that the airport failed to keep enough foam in an emergency fire vehicle and that employee's report to the FAA, one Mammoth Lakes man with tongue planted firmly in cheek said, "If the FAA faxes something on this to the airport, they better do it on letterhead!" Reference to Airport Manager Bill Manning's testimony in the Hot Creek lawsuit that the FAA faxed notes of concern about the Hot Creek development but since it wasn't on formal letterhead Manning said he dismissed it as "ridiculous."
Here's some more meaning in the John Christiana court sentence for burning down the Bristlecone Visitors Center. Spokesmen pointed out that Christiana spent a lot longer than a year in jail – a total of 885 days with 179 of those in Mono County. Lots of folks griped that Christiana only got time served and five years probation for a major crime. There are other circumstances to consider like the cost of a trial, complications of motions and witness subpoenas that Christiana promised. To manage trial costs and a likely appeal by the defendant who represented himself might have been a mistake, say some in the know. Just remember our court officials do, in some cases, really try for the best outcome all the way around.
We've heard plenty of gripes about gas prices around the Eastern Sierra. Mammoth Lakes – $4.39 for a gallon of regular. Inyo County – from $3.82 to $4.00. This time these prices have really ticked off some people here. We heard things like the oil companies always have huge profits. It's money out of our pockets. The gas in the pumps has been here awhile. And, no one has proved that the unrest in the middle east has done anything at all to the oil supply. They blame big oil companies and commodities traders. We do too. Just as recovery seemed a reality, this will add a heavier expense for many.
Good grief is all we can say to the news that the Inyo County Water Commission has another vacancy. Seems a man recently appointed, Daniel Smith of Lone Pine, has left. Actually, we never saw him at a meeting, but hey, maybe we missed one. Maybe this time the Inyo Supervisors will appoint someone with experience, smarts and passion about the water issue. As things stand now, the whole thing could just wither away under intensely puckering boredom. Few care about the water issue because nothing ever happens!!! So, here we go again – applicants, please step forward. But if you possess knowledge, courage and desire to help on the water issue, don't expect an appointment. You all know the drill. Submit your request for appointment by March 21st.
Lots of speculation over whether former Mammoth Police Sergeant Eric Hugelman will go back to work at the Mammoth Police Department. He did win the appeal of his termination. Mammoth Police Chief Dan Watson would only say, "This is a personnel matter and there is only a little I can say. I can tell you that if Hugelman returns to work, he will fill a vacancy created by the promotion of John Mair. If this happens," said the Chief, "no timetable has been established."
As the World Turns so do the days of our lives. Wait a minute, are we in a soap opera?
With that, this is Benett Kessler signing of for Bureaucrat Beat where we await your word on our lives in the Eastern Sierra and beyond.