Some of the Inyo Supervisors got down right snippy Tuesday. Board Chair Bev Brown accused one constituent of gossip and she accused me of blaming everything on DWP. Wow. Did she take nasty pills before the board meeting?
A very nice, intelligent man, Scott Palomar, who moved to the area recently, wanted to talk to the Supervisors about DWP buying more private land and the need to get more land in private hands and on the tax roll for the sake of the Inyo economy.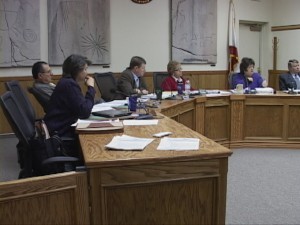 It was as if he had suggested nude dancing bars on Main St. Supervisor Linda Arcularius jumped him for naming the people selling land in Oak Creek, possibly to DWP. Then Board Chair Brown accused local realtor Jennifer Castaneda of "gossiping about land deals." Wow, again.
The Board just didn't seem to get the point – Inyo, particularly Southern Inyo, needs some small bit of growth instead of a constant loss of population and services. Mr. Palomar wanted to speak to an improved life for the people. The Board wanted none of that. They clearly have an edgy DWP phobia. Those initials send them into nasty orbit.
During a break, I tried to explain to Board Chair Brown how Southern Inyo suffers. In the last 35 years, I explained, Independence has lost half its population, a bank, a doctor's office, restaurants, stores, a grocery store and the school struggles hard with not enough students. We need help. Brown's reply? "You just want to blame DWP!" she snapped. What? I hadn't even mentioned the DWIP. Now, I can see how she might think I blame everything on DWP, considering my record of reportage over the years. But, Bev, you totally missed the point, and you don't really know me. You've never talked to me about what I think. Maybe, Bev, you've been listening to too much gossip!
Snarly day at the Board.
On to fantasy. According to Science News magazine, researchers have used a "new technique" to make volunteers feel that they've swapped bodies with a mannequin or another person! Double wow!! Talk about a way to understand someone else.
Hey, we in the Bureaucrat Beat newsroom decided we would submit to a body switch with bureaucrats so we could better know the alternative reality of regulations and real rigidity.
Once we switched bodies, we figure we would then have to wear some kind of uniform – maybe button down collars and chinos with name tags to make sure we know who we are. Then, we march outside to our vehicles which suddenly boast insignias on the doors, which further impresses us with who we are.
Okay. Back into our offices where name tags on our desks direct us into our cubicles. We pull out the big, chunky books of regulations and start to ponder. A terrible feeling of panic rises up as we think about the rules, neighborhoods, people. Contempt for all other life forms takes over. The next thing we know, we're screaming – Get us out of here!!!
Whew! No wonder some bureaucrats just don't relate to the real world. They don't operate in it. End of body switch. We can't take any more. Thank goodness, we're back in the free wheeling dark and cave-like newsroom where anything goes.
Just a quick note from the public. They want a Trader Joe's in Bishop or Mammoth Lakes. Since the demise of Cottonwood Plaza, several people have commented that they would forgive Mr. Caldwell the chain link fence around the dead zone if he brought in Trader Joe's. There you have it.
Another fascinating development. Richard Maudsley, who used to hold a sublease of Cottonwood Plaza, said he's coming to Bishop next week and wants to help find a solution to the defunct plaza. Here is his letter:
Dear Editor,
I'm planning to be in Bishop next week. I'm saddened by what has happened to the people and buildings at Cottonwood Plaza since my company's operating lease expired in June 2008 and I would like to see a solution that works for everybody.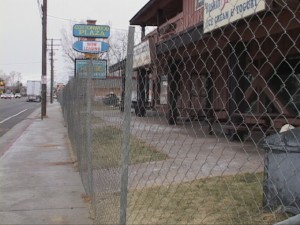 Although neither I or my company has any ownership interest in Cottonwood Plaza nor do I control what will happen to it, I'd like to meet with anybody who has a question or a good idea and maybe something good will happen. Please call me at 619 758 5447 and we'll talk.
Yours Sincerely,
Richard Maudsley
Manager of Bishop Plaza LLC
Okay. Interesting development. Give him a call, somebody.
With that, this is Benett Kessler signing off for Bureaucrat Beat where we await your word on our lives in the Eastern Sierra and beyond.