A true sign of the times – Foreclosure Fairs??!! Yep. A group called Neighborhood Assistance Corporation of America, a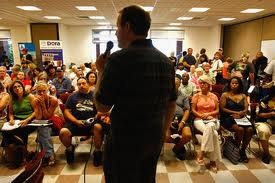 non-profit, held Foreclosure Fairs in Los Angeles and Sacramento so far. 40,000 people showed up in L.A. They call it a "Save the Dream" event. Good grief. It's the Depression all over again. At least a California legislator introduced a bill to put a moratorium on foreclosures for awhile. The banks basically made bad loans or loans with fluctuating interest rates that priced people right out of their homes. Ugly business.
Speaking of ugly, the LA Times reports that the insurance industry has poured money into Republican campaign coffers to try to scale back wide-ranging regulations in the new healthcare law except for the part about mandatory purchase of health insurance. We in the Bureaucrat Beat newsroom like business. After all, we're in the news business, but things have gone too far. An opinion piece in Scientific American says that internet service in the U.S. falls below service in South Korea and Japan, and, get this, worse than service in Portugal and Italy.
The editors of the magazine write that "Our creaky internet makes it harder for U.S. entrepreneurs to compete in global markets." Then they add that the U.S. "came in dead last in another recent study that compared how quickly 40 countries and regions have been progressing toward a knowledge-based economy over the past 10 years." Oh, fine. The richest nation in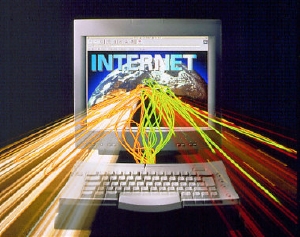 the world can't even surf the web very well. Why not? Seems the FCC has, so far, remained unwilling to re-categorize the internet which would open it up to wide competition. Scientific American says, "This move may have been intended to avoid criticism from policy makers, both Republican and Democrat, who have aligned themselves with large internet providers such as AT&T and Comcast that stand to suffer when their local monopolies are broken." Aren't monopolies, or big, big banks, the ones who caused our economy to just about tumble into a black hole in space? Get real, Washington, D.C.
On the local bureaucratic scene, small triumphs count. Stan Smith let us know that as a result of a road job on Lazy A Dr. in Bishop lots of gravel and goo got on Bear Creek. Smith called Inyo County Public Works and left a message about resident complaints. Fearing a cold shoulder from bureaucrats, Smith and others doubted anything would happen. A couple of days later, Smith said, the County had a street sweeper out on Bear Creek to get things cleaned up. Good job, Inyo.
J.R. Ewing cleaned the clocks of Citigroup. Actually, his real name is Larry Hagman, but we all know him as JR from Dallas or the astronaut from "I Dream of Jeannie". He's also the son of Mary Martin. Anyway, fame aside, Hagman sued the mega bank for misrepresentation and omission, failure to supervise and violation of federal and state law. The allegations stemmed from securities held in Citigroup accounts as well as the purchase of a life insurance policy. They messed with the wrong actor. A judge ordered Citigroup to pay more than $11 million in damages.
More news about our inefficient federal government. Hope this isn't beginning to depress everyone. The Social Security Administration's inspector general reported that some $18 million of stimulus money went to nearly 72,000 people who were dead. A bit less than half of those payments were not returned. The report also said that about $4.3 million went to more than 17,000 prison inmates. The report said that there is no law to recover payments sent to dead people. Does Amazon.com reach the Hereafter?
One of our listeners wanted to ditto concerns about the U.S. Chamber of Commerce and the too cozy relationship with some legislators. Many have grown weary of the partisanship.
FYI to our website commenters. We're not going to try Mr. Lupe Almaguer of Mammoth Lakes in the media. If you have information about that case, call the Mono County District Attorney. The presumption of innocence is a common law provision deep into our legal system. This concept came from the Mother Country and we brought it with us to America. It's only fair. The prosecution has to prove someone is guilty. These kinds of concepts make our country what it is – free.
With that, this is Benett Kessler signing off for Bureaucrat Beat where we await your word on our lives in the Eastern Sierra and beyond.