The Senate Republicans must've read Bureaucrat Beat and thought we had a good idea. They have voted to halt earmark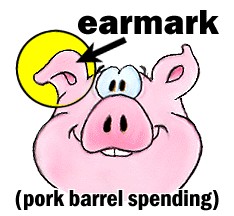 expenditures. Wow. We want to shout Hallelujah. Instead we will note that the $16.5 billion saved annually should go to pay off the national debt, if Congress goes along with the Senate. They should've done this a long time ago.
The earmark spending moratorium needs bi-partisan and presidential support. It's the least they can do. The very least.
One more note on the Lyndon Larouche kids who came to town this week – you know, the ones with the poster of the president with a Hitler moustache. After observing them, we in the Bureaucrat Beat Newsroom concluded that they came to town to perform political theater, a kind of stunt, in order to get data – you know, all those signatures and addresses and emails. Larouche has flown under the radar mostly. Maybe he's ready to fly higher.
On the court scene statewide – Meg Whitman settled with her former maid. Good grief. Political analysts claim the illegal maid cost Whitman the election. We disagree. It's more like a "Where's the beef?" issue.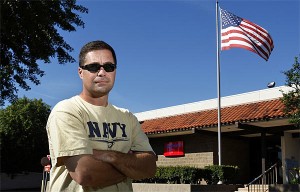 LA Times columnist David Lazarus knows how to go for the beef. One of his columns this week targeted a soldier who did battle with the Taliban in Afghanistan and then faced cold-hearted Bank of America that dinged his credit rating because he missed a couple of credit card payments while in combat. Marine Brian Roach brought up California Military and Veterans Codes under which he is protected from adverse credit reports related to military service. B of A could care less. They pointed to a federal law which fails to address credit scores. As if we didn't already despise banks enough.
City of LA bureaucrats do not hate fast food restaurants, but they do want to limit their numbers, particularly in light of national statistics that obesity is killing people and making them sick. The restaurants say they will fight back with statistics of all the jobs they provide. Good grief. We want people to have jobs, but no one would wish obesity, diabetes and heart attacks on our neighbors. Go, LA!!
No worries. If it doesn't work out, we can head to outer space. A spacecraft factory will soon break ground in Mojave. No, they will not take reservations for your trip to outer space just yet, but hey, it's probably not far away. What do you bet the fast food guys get franchises on the corner of Mars.
The Spaceship Company is a joint venture owned by Mojave-based Scaled Composites and British billionaire Richard Branson's Virgin Galactic, a space tourism company. Branson dig things that move – formula one cars, jets, beautiful women. You get the picture.
Just a brief warning for you if you want an unlisted phone number. One of our listeners said Verizon has willy nilly sold their phone number list regardless of unlisted status. If you want privacy these days, seems like you have to fight for it.
Speaking of that, we support the young man who drew the line on getting frisked at the airport. Orwewll's 1984 is not a happy story. We don't want to live it.
How about that story from Sacramento detailing legislators who accepted all-expense paid trips to Maui courtesy of lobbyists and special interests. Someone needs to make this a crime. If Governor-elect Jerry Brown wants to help his state, he should issue an executive order. No more pay to play antics that leave most citizens totally out of the picture.
With that, this is Benett Kessler signing off for Bureaucrat Beat where we await your word on our lives in the Eastern Sierra and beyond.