Shame has dropped out of fashion. Otherwise former House Majority Leader Tom DeLay would never plan to appear on television's Dancing with the Stars show. That's right. The Hammer, as they call DeLay, will twirl around the dance floor with reality contestants. Meanwhile, DeLay remains under indictment for alleged money laundering.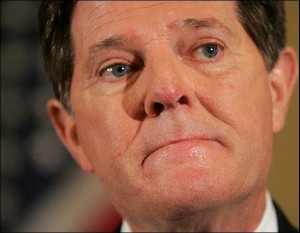 In 2005, DeLay was also indicted in connection with alleged campaign finance violations. That case is still pending. DeLay fell from his power spot in Congress during a corruption scandal that included former lobbyist Jack Abramoff. Swell guy.
Then there's Rob Blagojevich, impeached Illinois governor, who faces criminal charges but wanted to appear on NBC 's reality show, "I'm a Celebrity, Get Me Out of Here." The judge in his case turned down the request and said Blagojevich needed to take his court case more seriously. NBC was "disappointed." What?!?
Are we crazy or does all of this seem way, way over the top? Why not just launch a show called "Dancing with the Disgraced"? Contestants could glide around the floor with the likes of DeLay, Blagojevich, Newt Gingrich and Bernie Madoff. And, hey, if that's not sleazy enough for you how about we coax some of the released California inmates into an image-building TV career?
Talk about disgrace – how about those idiots who spread the lie that the new health care reform bill included death panels for the elderly? It's a lie and all the hub-bub may scuttle the real provision in the bill – funding to help the elderly prepare a living will, if they want to.
We think it's time government went out of its way to do something for the elderly. If we live long enough, we'll all be called elderly. The Governor cut funds for programs that help our senior citizens here stay at home longer. The government also cut funds to pay for a Social Security representative visit to Bishop once a month. Now, those who need the service have to stare at a computer screen in the Senior Center to try to figure out how to get help.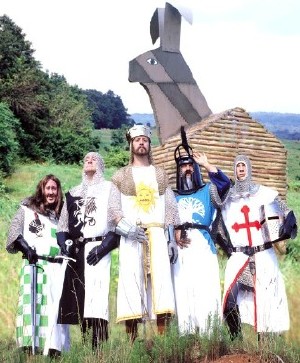 Here's one to figure out. How is the Office of Statewide Health Planning and Development like Monty Python? The absurd and practically surreal OSHPD held up a construction permit for Northern Inyo Hospital for three or four days, demanding that hospital officials prove that they could provide ethnic meals in their stand-by kitchen that will be included in the new hospital building.
So, someone has to say, okay, we'll have spaghetti for the Italian patients, curry for the Eastern Indian patients? Sounds kind of racist. Makes you wonder what the OSHPD bureaucrats will come up with next. They'll probably hold the building permit hostage until they get colors and designs for hospital gowns, with ethnic choices. Eegads.
The OSHPD boys could've okayed the permit two weeks ago and dealt with their menu angst later.
For those who still have major heartburn over health care reform, did you hear about the Remote Area Medical health fair and clinic held at the Forum in Inglewood. More than 6,000 people traveled the distance to get free medical care. Some of the stories are about real, long-term suffering due to no medical care. Many of these people were working middle-class who could not afford health insurance. So, if we don't need reform, why did 6,000 people flock to a week-long clinic to get help?
Startling news this month. S. David Freeman, at 83, is back with energy for solar energy. He's a tough Tennessee man who has wielded personal power in at least four major utilities, including DWP. Freeman wants to install solar panels on the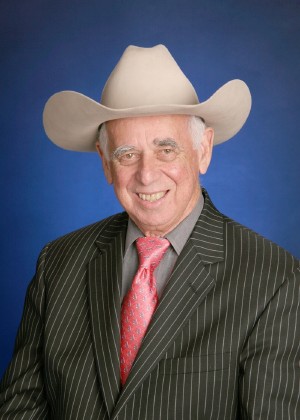 Owens Dry Lake to keep dust down and generate power. Fascinating. He's a bureaucrat with imagination. It was Freeman who settled the fight and launched LADWP on a path to control the damaging dry lake dust. Stay tuned. Freeman knows all the heavy hitters.
Some in the Eastern Sierra have begun to wonder what's up between Inyo and Mono counties. First, some Mono supervisors tried to split from the Air Pollution Control District. That didn't happen. Then, Mono and Inyo split from Inyo Mono Area Agency on Aging. Now, they've split over the Fish and Game Commission. Inquiring minds want to know what's up. Our two counties have a lot in common and cooperation has seemed to work well until recently. Stay tuned.
With that, this is Benett Kessler signing off for Bureaucrat Beat where we await your word on our lives in the Eastern Sierra and beyond.