We begin today with a smooth singer, Chris Isaak. His new show on the A&E channel premiered last night. The mellow man not only knows how to croon a tune, he thinks politics. His quote in the Los Angeles Times: "They're giving millions to Detroit for making bad cars and millions to banks for writing bad loans." He posed a bail out for bad song writers.
Hey, the way things are going, this kind of logic makes sense. We hear that Honda has so pleased car buyers, they have actually ratcheted up production of their vehicles. Come on, Detroit, hang it up or change your ways!
Back to music. Elvis Costello now hosts a new music-driven show called "Spectacle" on the Sundance Channel. Check out Elvis's guest list – looks like fun.
In these sometimes very hard times, the arts give us hope, inspiration and even direction. Feeling down? Listen to music, get up and dance, cut loose and sing. On that note, we received a letter from Don McPherson of Mammoth Lakes on the theatre scene. It goes like this:
I had to ask myself more than a few times, what the heck are you doing? Why are you writing a critique of a play? You're just an average citizen, not a film or stage critic! Point taken. Nonetheless, I'll tell you why. First of all it feels good to write about something that has truly left a lasting impression on you. That's what "Cat on a Hot Tin Roof" did for Jan and me on opening night last week. I'll get right to it.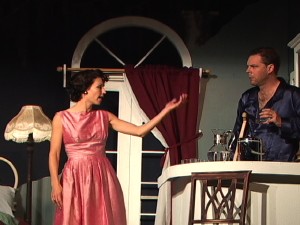 It was the best play, as acted, that I have seen in decades. This
ensemble, made up of totally gifted individuals, each and every one of them, stopped me dead in my tracks. After the first five minutes or so went by, I knew that we were in for something special. Little did I know that, as the evening progressed, special was the wrong word. Simply spectacular is more like it. This cast, and let us not forget the hard working crew behind the scenes, could pack up tomorrow and take this play all around the country and play to packed houses everywhere they went. And that is fact!
The lighting was perfect. The sound was perfect and the stage effects were spot on for a play of this nature, i.e., a one-room, two-act endeavor. A Pulitzer prize winning masterpiece, written and rewritten by the great Tennessee Williams, and played with all the cachet, style and authenticity that it deserves.
I am not going to give away any of these fine actors and actresses individual performances. What I can do, however, is to assure you that their efforts, all of them, were simply sans reproche. The word spellbinding comes to mind. Keep in mind that all of these really first-rate thespians HAVE DAY JOBS!!! Some of them have night jobs as well. For this production to be so polished, so professional and so entertaining, with the aforementioned in mind, simply blows me away. The effort
that has gone into this production will become obvious to you when you see it.
Once in a great while does everything come together and click, as has been the case here. It is no mystery that it takes a great director to bring a lot of really talented people together. Shira Dubrovner, the director of this play, has done just that with wonderful results.
I put these few words together because I want to do everything that I can to show support for the Mammoth Lakes Arts Center and the Sierra Classic Theatre. What could be better than making it "date night?" Have a light dinner and then the theatre. Go hand in hand to see this wonderful play. Show your support for the arts. I urge you. You won't regret it. Jan and I will be there again for closing night. You couldn't keep us away.
Sincerely,
Don McPherson, jr.
Mammoth Lakes
Thanks, Don. The creative force does a lot for us, whether we express it or witness it. Go for it!
Local workmen wish they could go for some of the construction jobs on our highways right now. Good jobs are scarce. One of our listeners wrote to ask why Caltrans and their contractors do not hire local people on their jobs.
Susan Lent, Caltrans public information officer checked out the policies and wrote back that Caltrans does not do direct hiring for roadway projects. She said the contractor performing the contract work for the project is responsible for this. Lent said there is no Caltrans policy pertaining to hiring local workers on projects.
Bottom line – a competitive bid process leads to an award to the lowest qualified bidder. However, Lent added that District 9 does have a Small Business Liaison, Liz Santucci, who deals with local contractors and vendors to let them know about opportunities to do business with Caltrans. Call Santucci at 872-0777. Sometimes the bureaucracy can help. Too bad there's no hire locals policy on big jobs.
Here's a bit of news. Local bureaucrat and soil scientist, Todd Ellsworth, has flown to Australia to help out. He's an assistant team leader down under where terrible wildfires plagued the countryside. Ellsworth and others will work up emergency plans to protect the denuded burned areas from devastating erosion.
Very cool, as they say.
Uncool – the hot tempers that flared after selection of a new planning commissioner for Mammoth Lakes. Lots of local luminaries (vocal, public and thoughtful people) applied. On a 3 to 2 vote that mystified many, the Town Council selected a little known woman with experience in local government out of this area, Sharon Clark. The fur flew after that.
To her credit, Ms. Clark has sent around an email with a simple message. Here it is:
My passion has always been, is and will be government of, by, and for the people. As your new Planning Commission member and public servant, my responsibility is to listen to you, to hear you, and to represent you to the best of my ability. If you ever have any questions or concerns, please contact me via phone, 924-5639, email, [email protected], or USPO, P. O. Box 3328. I look forward to working with you.
Sharon R. Clark,
Mammoth Lakes
Find out if the Council selection works, follow planning commission meetings.
With that, this is Benett Kessler, signing off for Bureaucrat Beat where we await your word on our lives in the Eastern Sierra and beyond.