One of our listeners lamented the other day that, "An honest legislator doesn't exist any more." A true concern for sure.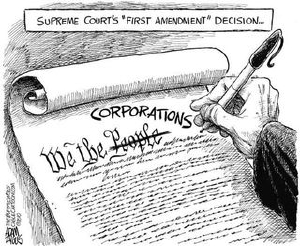 That's why the group, Public Citizen adopted the slogan "We, the People NOT we, the corporations." Somehow, we in the Bureaucrat Beat Newsroom doubt that those in Congress will get the message. They are way too busy with a hand out for corporate dollars. Last year, the Supreme Court gave corporations even more power with the right to donate as much as they want to political campaigns under the cover of other groups. The court decision upended decades of campaign finance laws. We would at least appreciate knowing who is donating, and thereby controlling. Okay, Congress?
The same greedy behavior of corporations can be found on much smaller scales. A quote on Facebook said something about a tourist in Mammoth who wanted a ban on locals shopping at Vons during busy holidays because, she said, "They are buying up OUR food." Wow. Talk about delusional.
We do hope the Town of Mammoth tiptoes its way out of several messes in the new year. One of our listeners observed the Town's loss in the court of appeals, big loss, and the loss over police sergeant Hugelman's appeal of his termination and commented that this whole thing is the pride goeth before a fall deal. The Town and its leaders over the past 15 or 20 years catered to the guys with the big bucks, did not just tend to what the citizens of Mammoth need, and now its back to a bare bones government. Former Mammoth Town Councilmember Kathy Cage had much earlier said about the signing of the Hot Creek development agreement that town officials told the staff to treat Hot Creek like a "partner." Cage voted no on the development agreement. Everybody else went along. An expensive lesson.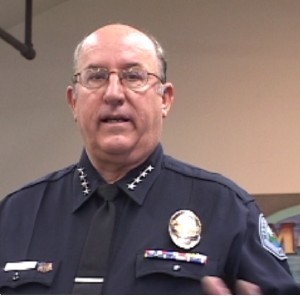 Advice to Town of Mammoth leaders, quietly stick to business and let new Police Chief Dan Watson try to bring the police department back onto firm ground. He has a good start and will likely labor under a lack of officers and funds. Watson's been around the block a few times, though.
Speaking of around the block, the firm Retail Coach from Texas, in the midst of an analysis of Bishop's shopping patterns, should survey not just Bishop but Mammoth Lakes shoppers. After all, Mammoth uses Bishop as a shopping and service city. It's a market, guys.
Lots of unhappiness with Edison and Verizon over the holiday. The extreme weather seemed to take out utilities. Understandably, it was tough to respond all over the state. But the possibility of a lack of maintenance and not enough workers did come to light. Mammoth Lakes has suffered more than one underground power failure. That's not the squirrels chewing on lines down there!
The little community of Keeler suffered with no power for more than a day right before Christmas. Tough on the folks who use oxygen and breathing machines. They said DWP did more for them than Edison, whose spokesperson claimed bad weather delayed their response.
Meanwhile in Sacramento, news reports say that Governor Jerry Brown will seek to extend tax hikes and go after billions of spending cuts in virtually every area of state government. Brown comes into office in the face of a $30 billion deficit over the next year and a half. Yikes. Seems kind of strange that some high-paid University of California executives want bigger pensions in the face of the deficit. We hope Governor Brown says no to this kind of greed.
If voters say yes to Republican Ted Gaines in today's First District Senate Race, sounds like his wife will go after this state assembly seat. The Sacramento Bee reported that Gaines said his wife Beth is thinking about it. Politics all in the family.
A new poll shows that baby boomers fear Medicare and Social Security will not take care of them. Here's to more sanity in Washington, D.C. in 2011.
With that, this is Benett Kessler signing off for Bureaucrat Beat where we await your word on our lives in the Eastern Sierra and beyond.