Good bureaucratic news to launch today's rant. We were pleased to see that the Eastern Sierra Transit Board showed compassion for those who really need bus service and can least afford to lose it.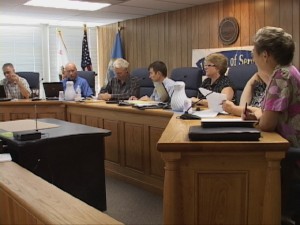 The Transit Authority lacks about $170,000 for the budget in the new fiscal year. The Director proposed a cut in service and use of reserve funds. The board members, who are our elected officials, said, whoa, not so fast. They also noted that the agenda did not list a cut in service and that they were obligated to let the public know what was afoot.
Here are the officials who took a careful approach to hurting the less fortunate – Mammoth Councilman Skip Harvey, Mono Supervisor Byng Hunt, Mammoth Councilman John Eastman, Bishop councilman Jeff Griffiths, Mono Supervisor Vikki Bauer, Inyo Supervisor Linda Arcularius and Bishop Councilwoman Susan Cullen.
As Supervisor Hunt put it – the people affected by this loss of bus service are least likely to be involved in the political process – the elderly, disabled and poor.
More on potential cuts to Dial A Ride in Bishop and Walker at a meeting of the Transit Board July 18th in Mammoth Lakes.
We should note that Supervisor Linda Arcularius has lately shown a serious interest in inclusion of the public wherever she can achieve it. That's hopeful.
What's not so rosey and Alice in Wonderland at the gas pumps. That's mostly why the bus service costs went up so much. Congress doesn't want to tax the Mega Oil Guys because they're afraid the avaricious awfuls would raise the price of gas more. Can you spell got-us-over-a-barrel? Extortion also comes to mind.
While high gas prices now hurt the elderly and disabled, we're all next. We need more bus service, not less, as the "unable to drive for whatever reason" people look for a new way to get around.
One more thing. A woman who said she represented the disabled very politely spoke to the Transit Board. Anna Stewart struggled to walk up to the podium and back because of her disability. She apologized for bothering the Board but said she and others need the buses. They have no other way to get around, to get to doctors' appointments and stores. Her courage to walk and stand up for her needs said it all.
More inequities in the news. 41 organizations let the Senate know that "many poor seniors and people with disabilities on Medicare are eligible for assistance with their health care costs, but continue to face significant enrollment barriers. They are still forced to choose between paying for rising food costs and needed prescription drugs and between doctor visits and increasing electric bills. We can and must do better." We agree.
From the poor to the rich. Local Real Estate Agent Paul Oster's blog reveals some economic information of interest. The wealthy still want to buy in Mammoth Lakes. Oster speculates it's for a good investment and a future safe lifestyle, perhaps. Oster also quotes

corporate owner of Starwood and MMSA, Barry Sternlicht as tauting the virtues of Mexico as a destination resort experience. Oster and others say – hey, Barry, how about us?!?
Oster also quotes Sternlicht saying, "There is no need for another hotel, but there is a need for another experience." Sternlicht made it clear from the start – he's a businessman. If spending money to boost Mammoth generates more bucks – he'll probably do it.
Finally, DWP General Manager David Nahai and Los Angeles Mayor Antonio Villaraigosa went to Israel. We placed calls to LADWP to find out more. We can only hope they're trying to find out more about desalinization.
With that, this is Benett Kessler signing off for Bureaucrat Beat where we await your word on our lives in the Eastern Sierra and Beyond.