The we can do what we want other life forms be damned theory has run into a few brick walls. As the Bureaucrat Beat staff reviewed news reports this week, we found an alarming story about a new report out from top scientists in the nation who collaborated to look at climate change and life forms.
What did they find? That as the climate heats up, many of California's plant forms will die. In fact, here's what the LA Times said, "Two-thirds of California's unique plants, some 2,300 species that grow nowhere else in the world, could be wiped out across much of their current geographic ranges by the end of the century because of rising temperatures and changing rainfall patterns, according to a new study."
Yikes. For those still in denial about climate change, whadda ya think? Still hooey?!? Ecologist Scott Loarie who conducted the new study with others said, "The climate is changing 10 times faster than it did during the last ice ages." Loarie said, "The first thing we need to do is to reduce the pace of change." The loss of this many plants would impact insects, birds and animals. Basically, life as we know it. Something to remember as you vote for a new President.
One more thing – yesterday, the California Air Resources Board revealed a blueprint for slashing greenhouse emissions back to 1990 levels. If this goes through, it will mean California leads the way to change.
Now it's time to catch up with people. We received an email about Paul and Kathleen Rudder and their Pony Village Mall in North Bend, Oregon. It's reportedly up for sale, according to North Bend TV News.
The Rudders, of course, own the Luxury Outlet Mall in Mammoth Lakes and have long been a part of the Mammoth Lakes community. Rudder is quoted as saying that due to personal health reasons, he and Kathleen have made the decision to sell the Oregon mall.
Oregon news says the Rudders accomplished many goals – a new exterior paint job, Wi-Fi inside the mall and millions into maintenance and additional stores. Reports said the Rudders plan to hold onto their other ventures in California, including their mall in Mammoth Lakes, with focus on charity work.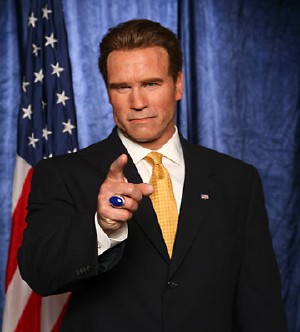 How about the fires in California? Wow. Hundreds burning and not all of them are staffed. It's ugly. So, the Terminator, better known as Governor Schwarzenegger, has said it. Don't buy fireworks this year. It's just too dangerous. Enjoy your fire departments' fireworks shows and let it go at that.
Some of our own people have experienced the terror of approaching fire. We in the Bureaucrat Beat newsroom packed up last July to evacuate. It's frightening and horrible and not worth a few whoopies to start a fire.
The Governor said, "Be careful. Don't buy the fireworks. Don't go out and play with fireworks because it's just too dry and too dangerous to do those things." The Gov fell just short of a statewide ban on fireworks sales.
More news from Sacramento. They used to call him Governor Moon Beam, but Jerry Brown has proven himself one tough customer who won't put up with any baloney as California's Attorney General.
He has now sued Countrywide Financial Corp, the nation's largest home loan lender. Brown charges Countrywide with deceptively pushing homeowners into risky, mass-produced loans that have caused thousands of residents across the state to lose their homes. California joined Illinois in the suit against the lender, alleging the firm has caused thousands of foreclosures that have damaged the economy and housing markets.
Tough is one thing – rude and childish, quite another. That's the way some people behaved at Wednesday night's Wilderness meeting in Bishop. Example? An elderly woman stood up to say we need protection of our lands and a big, brave fellow from the back of the room yelled, "B-S."
Why didn't the elected officials demand order?!? As one of the Bureaucrat Beat staff put it, "The people who turned that hearing into a three-ring emotional circus should be ashamed of themselves."
Other heckling and nastiness went on, including booing speakers supporting wilderness. Hey, this is America and we have every right to express our views, but how about a little respect for others views. Ego maniacs and bullies need not apply!
Today is National HIV Testing Day. Another chance to get past the prejudices and get tested if you have doubts. According to the U.S. Department of Health & Human Services, an estimated 250,000 people in the United States have HIV and are not aware of it. Best to find out. Even First Lady Laura Bush recommends it.
With that, this is Benett Kessler signing off for Bureaucrat Beat where we await your word on our lives in the Eastern Sierra and beyond.