We like to start out Bureaucrat Beat with the ridiculous. It sets the tone for what will follow. So, here it is. In the news this week, the Elvis Presley estate signed a deal Hasbro Inc. and PPW Toys to release an Elvis version of (are you ready for this?) Mr. Potato Head!!!???
Good grief doesn't begin to express how we feel. Reports said that the new toy is one of 15,000 Elvis-licensed products. Mark your calendars – the first of the Elvis potato heads will be released for Elvis Tribute Week in August. Inquiring minds want to know – will the kit include attachable side burns? Dark glasses? A cumber bun with sequins? The LA Times reported that the toy will wear a jumpsuit. Later a second version will wear black leather. What's next? Blue suede shoes??? Hey, this will help the potato market.
Next election, if you don't care for the candidates, you can write in Mr. Elvis Potato Head. Some people in Inyo-Mono did write in names – like Mickey Mouse, None of the Above, pretend names; and in the case of Inyo District Attorney, lawyer Tom Hardy got some write-in votes.
If we ever decide to create a public office of Prognosticator, write in Tom Cage of Mammoth Lakes. Tom's election predictions are legion. He did not disappoint this time around. We can only say, if you are tempted to bet against Cage, don't.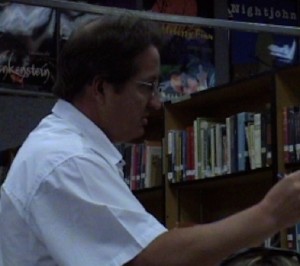 Through his own arcane mathematical methods, Tom predicted the top three vote getters in the Mammoth Town Council race. He hit right on, by the vote, within 2 to 8 votes. Yikes! He pretty much foresaw the whole line-up. Cagie, as they call him, nailed the other elections pretty much right on, too.
Tom shared that he has the power to view things and events mathematically. He even guessed the number of jelly beans in a contest jar some time back and hit it within six beans!! We've always appreciated his business acumen, but only guessed at his predictive powers. Guessing doesn't really count.
Big Oil companies should remember that one. So should government regulators. If a company wants to drill an oil well and has no provable disaster plan, just say NO!!!!! We need new rules and tough sanctions. Same goes for big banks and their rash ways.
Now for some old rules. We mean really old rules. Yahoo News published an amusing story in which the writer had researched aged laws still on the books – laws that might've seemed like a good idea at the time, but now they're just silly. Fortunately we have no domestic police who check up on these oldfangled orders.
Like this one. On the books right here in California – You may not eat an orange in your bath tub! Darn. Then, in Illinois it's still illegal to take a French poodle to the opera! What about fussy babies?!? In Colorado, it's unlawful to lend your vacuum cleaner to your next door neighbor. What about the neighbor across the street?
The goofiness pops up in other countries, too, according to the article. For instance, in France it's illegal to call or address a pig as Napoleon. Gee, I wonder who insisted on that law? In Australia it's illegal to dress up as Batman. How about Robin?
With that, this is Benett Kessler signing off for Bureaucrat Beat where we await your word on our lives in the Eastern Sierra and beyond.