A press release from the Town of Mammoth Lakes was titled, "Town Council Provides Assurance to the Community." One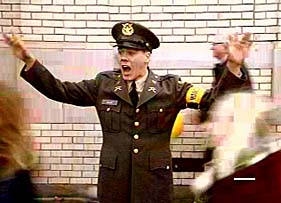 member of the Bureaucrat Beat newsroom could not help but think to the end of the movie, "Animal House", when Kevin Bacon is swarmed by the mob at the end of a parade, crying, "All is well. Remain calm."
For those who watch Mammoth Lakes: The Mini-Series, we have to say all is not well. Some officials feel embarrassed, shall we say mortified, about the accusations in the court of Appeals decision. The judges did pretty much say that Mammoth officials intentionally tried to deprive Hot Creek of their development rights. Mayor Skip Harvey says that's just not true. He also said, "Our door is open if the other side is interested in a settlement." We hear they are.
Next on the list of bureaucratic bothers – the State budget. Yikes. What a mess. In the hole nearly $30 billion. Hard to fathom. Governor Brown has the knife out to cut spending. It will hurt us here in the Eastern Sierra in some way. Count on it, but what else can he do? We've lost our heads when it comes to how to run our biggest bureaucracies.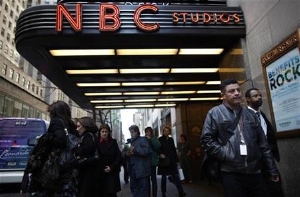 Talk about big. How about owners of the major television networks? Comcast, the largest provider of cable tv and internet in the U.S. just won FCC approval of the take-over of a large chunk of NBC. Of course, General Electric actually owns NBC. Disney owns ABC and Viacom owns CBS. They haven't been privately owned networks in decades. As big corporations swoop in and devour companies we all have to learn to say "monopoly." Why should we care? Because the closer to monopolization they go, the less service we will get. They won't have to and they don't care.
Currently, some in the media speculate that the Comcast take-over of NBC will mean even less meaningful news coverage than before. Comcast alleges they will provide 16 more minutes per day at all of their stations on news. Trouble is the definition of news can mean useless puffery about other companies Comcast owns. A Los Angeles times story says that USC's Norman Lear Center released a study that showed LA TV news stations manage an average of 22 seconds of local government coverage for every half hour of news they put on the air. No wonder things have not gone well down there.
News coverage has not gone well for Supreme Court Justice Clarence Thomas. The Times reported that the watchdog group called Common Cause reported that Justice Thomas failed to report his wife's income from the conservative think tank, Heritage Foundation on his required financial disclosure forms. Heritage Foundation paid Virginia Thomas nearly $700,000 over a four year period. Just play by the rules, guys!
Hey, the LA Times Business section says malls are back in style. Woo-Hoo!! Does this portend well for the defunct Cottonwood Plaza? And, some of the less lively malls in Mammoth? Maybe. The times story says the successful urban malls have found that a wide variety of food and other services and retail stores has boosted their success as destinations not just stop-bys.
For those who have asked, here's the deal on INET and MONET – the narcotics enforcement teams. Police and Sheriff's deputies from the two counties serve as agents in these two units. The teams are supported by local law enforcement and some state grants. They focus on drug offenses. End of story.
Finally, as we have said many times, the antidote to bureaucratic angst is art. One of our listeners told us about a movie that says it all. It's called "Mad, Hot Ballroom." A story about New York City elementary students who are all required to study ballroom dancing. The movie reveals the bright spirits of the kids and the magic of art. Check it out. Sometimes fifth graders understand the truth better than adults.
With that, this is Benett Kessler signing off for Bureaucrat Beat where we await your word on our lives in the Eastern Sierra and beyond.