Did you see our new Speaker of the House on 60 Minutes? John Boehner cried three or four times during the interview.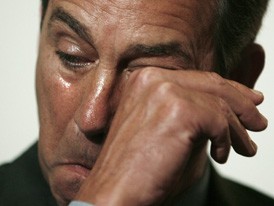 After that show, we should all worry about the congressional leader's mental stability. If he is so emotionally out of balance that he can't keep himself from falling apart on national television, what can we expect in the vicious, snarly world of Washington? Or are these crocodile tears?
Hey, we like to see the softer side of guys from time to time, but in the real world we like no nonsense guys who serve the people. News reports indicate the Speaker's tears are just for himself. He cries when he speaks of his humble beginnings as one of 12 children and the American dream, but he votes to make sure the have-nots of today continue to have not.
News reports say Boehner votes against the working stiff and hardens his heart when it comes to people who struggle. His voting record reportedly favors big corporations and banks, trade agreements that shift jobs overseas, and no to raising the federal minimum wage to $7.25 an hour. He also voted thumbs down to allow Americans to buy FDA certified prescription drugs cheaper from certain countries. Okay. Enough of him.
Here's a weird chain of events that amounts to bizarre communication or lack thereof. Seems Mammoth Fire Department heard from town officials that Southern California Edison would conduct a power outage from 1am to 4am yesterday morning. The word came to us at 6:30pm. Strange.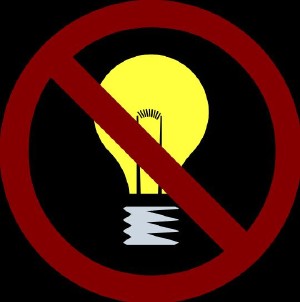 Even more strange – Edison's Dan Brady said there was no planned outage. Police Chief Dan Watson said his office was notified by an IT contractor who heard it from his receptionist who heard it from someone who heard it from someone. You get the picture. Word got around the Town Office, Mammoth Mountain, the Fire Department and to us.
Edison's off the hook on this one. They do plan a power outage at Northern Inyo Hospital over the week-end so they can install new electrical equipment for the new hospital building. May it go well.
We suspect the roast of Governor Arnold Schwarzenegger will go well, sarcastically, humorously and somewhat bawdy. Seems Mammoth Mountain CEO Rusty Gregory was on the way to join the roast. We were told he would deliver his zingers right after Jay Leno had his way with Arnold. Rusty has made a real friend in the Governator.
The Administrative Office of the Courts has made few friends in Inyo. They logically figured out how they could take away funding promised to Independence and give it to Bishop. County seats don't seem to mean much anymore. Neither does the way the state spends money. How can they afford $30 million on a building here? Inquiring minds want to know.
A nice honor for Dennis Cleland and his wife. Their daughter, Adrianna Cleland is part of the All American Cheer team which will take part in the New Year's Day parade in London. Another Bishop teen, Dennis says, Kelly Tyner is part of the dance team which will take part in the London celebration. Say hello to Kate Middleton for us!
In all of the AT&T hub-bub this week some folks in the Tri-Valley area got a kick out of AT&T's cluelessness. The AT&T man from "External Affairs" talked about the "greater Benton area" and phone service that would be fixed. Hello! Have they ever been here?
Seems the idea that political partisanship has to go has spread. A group called No Labels met in New York this week. LA Mayor Antonio Villaraigosa, a Democrat, told the crowd that both parties need to rethink their traditional alliances. Villaraigosa hammered the teachers' union, which traditionally supports Democrats. He said they block reform in public schools. The new group will also look into election reform. Go for it, No Labels.
With that, this is Benett Kessler, signing off for Bureaucrat Beat where we await your word on our lives in the Eastern Sierra and beyond.