Did you ever think it would come to this? A court has issued an order to halt robocalls. Those are the computerized calls that we all hate to receive and mostly hang up on. Apparently some don't and have gone down the road to the cleaners with bogus deals.
The Federal Trade Commission will now target telemarketers who violate the Do Not Call Rule and other laws by making hundreds of thousands or even millions of pre-recorded robotic phone calls. The FTC reported that lawsuits they plan to file try to protect consumers from "intrusive, illegal and deceptive telemarketing robocalls." High time.
This reminds us of our plight with catalogs. They continue to clog the Bureaucrat Beat post office box. We've called and called and begged for them to take us off their mailing lists. They will, eventually, they say. Meanwhile, a listener took mercy on us and gave us a way to stay off these dang lists. It's called the National Do Not Mail List.
Do Not Call List, Do Not Mail List. What's next? The Do Not Speak List?
Elected officials should not speak unless they have all of the facts. Assemblywoman Connie Conway sent out a mailer to constituents. She says that a highway widening project at
Independence will "bring much needed jobs to the region…." Yeah. Jobs for Granite Construction employees from out of the area. These highway projects rarely employ locals.
Observers of the Inyo Supervisors' meeting this week gave a big wahoo!! to Supervisor Susan Cash who didn't mess around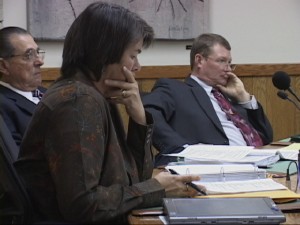 with the DWP Muckety-Muck who came there to talk about LA's big solar project plans. With a stern look and tone, Cash laid it out for the man – LA, DWP and the State will get a lot out of the Dry Lake Solar Project, but what about the Inyo people? What about jobs? Other benefits? She had her facts straight. It was refreshing.
Meanwhile, high profile columnist for the LA Times, Steve Lopez, laid out how much money DWP workers make. It's way more than other City of LA employees. Lopez said, "If you're looking for work in this rotten economy, I've got a tip: Run, don't walk, to the Los Angeles Department of Water and Power and apply for anything they've got." Then he laid it out. An executive secretary at DWP makes between $68,000 and almost $98,000 a year with great benefits.
Other LA City secretaries make $25,000 less. Lopez heard the LA City Council will give DWP workers promises for pay raises for the next five years. Hey, the source of all the water and power would like a little love, too, okay?
Meanwhile, in Paris, the Mona Lisa wasn't smiling over the labor angst there. Seems workers at the Louvre went on strike when they heard only one of every two retiring workers would be replaced. They say this will "cripple French museums."
Some folks thought the sugary cereals of General Mills would do harm to our kids – nutritionwise. So, not to worry, the big food company will fix everything. They've decided to reduce sugar per serving from 11 grams to (drum roll, please) 10 grams! Oh, big deal. That will really make the kids healthier!!
One part of the current healthcare reform bill that might help the health of the nation – the proposal to open Medicare to those as young as 55. Now, that makes sense. We in the Bureaucrat Beat newsroom, advancing rapidly in age, see that as a way to cover people. But the legislators must think of others. Doctors tell us that people without health insurance often neglect themselves until it's too late.
With that, this is Benett Kessler, signing off for Bureaucrat Beat where we await your word on our lives in the Eastern Sierra and beyond.