The first of a new month. Seems somehow significant. We decided to check out August First. We found many curious and somewhat fascinating things. August First is the 213th day of the year with only 152 days left. We're past the halfway mark.
The first jeep was produced on August First. Anne Frank made the last entry in her diary on August First. Here's one for Bob Todd – Jerry Garcia of the Grateful Dead was born on August First, 1942. It's Jamaica Emancipation Day, Switzerland National Day and Colorado Statehood Day. Finally, August the First, the movie. Descriptions of the film speak of a "relentless and devastating family drama", and "long-buried hidden agendas and dark, twisted secrets from the past." Just your typical family.
In fact, this reminds us a lot of daily life here in the Eastern Sierra as we peer out from our protective newsroom into the swirling dervish of the day. First thing yesterday morning we received a phone call to say that law enforcement had surrounded the Benton Tribal office and that Joe Salque had locked himself in. The real story, according to Salque, after an election he was booted out but an appeal, he said has proved that the election needs examination and that he is still the valid Tribal Chairman, according to the Bureau of Indian Affairs. Salque provided us with a letter that verifies his assertion. Seems he had called the Sheriff's Department as a precaution since he ousted a staff member, according to the Sheriff's office people.
Now, an appeal hearing will follow and the turmoil will likely go on in the Indian community of Benton. Strangely, an attorney with his own problems represents the person appealing the election. Gerard Harvey, resigned public defender who, himself, faces legal problems. Life gets kinda complicated.
As we mentioned earlier, the Governor put the squeeze on the legislature when he dropped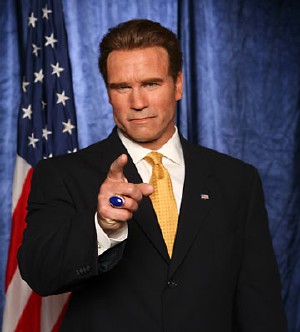 some state workers' pay to federal minimum wage and canned some part-time workers. He says he'll take it all back if the legislature will come up with a budget. Good Grief! How did things get so whopper-jawed?
Meanwhile, current state budget cuts have left our Sheriffs' departments shy of around $800,000 each. Both Sheriff Bill Lutze and Sheriff Rick Scholl advise that we vote for Proposition 6 in the next November ballot. It will restore lost state funds.
Sheriff Lutze told us that the loss of state grants will hurt the narcotics task force, money for corrections officers, overtime for special events and other law enforcement costs.
We bet most of you out there don't like that. What are they doing in Sacramento? We do know that the State Treasurer, Bill Lockyer, accused officials of "Tooth Fairy" budgeting. Wishful thinking and nonsensical twists and turns. Sounds like the film, August the First.
We in the Bureaucrat Beat newsroom have found that some people take the concept of eco-friendly a bit too far. One of our own discovered in a rather nice hotel that there were no phone books from which to learn about restaurants, stores, etc. Probably just an oversight by housekeeping, you say? Au Contraire! No phone books, no how, nowhere in no room. Is this really the answer to our environmental issues?
And, on that note, why has our current administration wasted 8 years with no solid energy plan and now at the last minute they want to drill for oil in the Alaskan Wilderness? Where are the big thinkers who get busy living right here, right now?
We're waiting. With that, this is Benett Kessler signing off for Bureaucrat Beat where we await your word on our lives in the Eastern Sierra and beyond.