Don't get the wrong idea. We in the Bureaucrat Beat newsroom live to skewer bureaucrats in all walks of life. To us the bureaucrat is the living symbol of negative qualities – bullyism, petty and peevish. We see this, not just in government workers, but everywhere, sadly. So, when we veer off course to compliment people, you know we really mean it.
In the course of our duties this week, we spent a fair amount of time on the disappearance of aviator Steve Fossett. First, cudos to the Civil Air Patrol men and women stationed at Bishop Airport. They have already flown thousands of miles in systematic grid searches for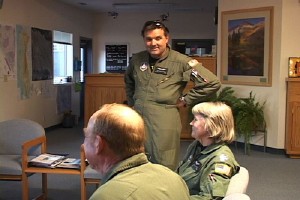 Fossett. They're darned nice people, too. Happy to give out information for the public. Wow. We love these people.
One more mention on the Fossett case. No, we don't think Area 51's aliens abducted him. We do want to say that Virin Airlines founder, Sir Richard Branson, exhibited one of the most creative (and therefore non-bureaucratic) ideas to find his friend, Fossett.
Branson had a brainstorm. Use Google Earth's satellite mapping and imagery over the last four days to see if they could spot Fossett flying. You never know.
Some legislators in Sacramento felt they never knew if heads of departments were telling the truth. So, the Assembly approved measures this week to ensure that stage agency reports submitted to the Legislature are true, accurate and complete.

AB 1135 requires state agency reports submitted to the Legislature to include a signed statement by the head of that agency declaring that the contents are true, accurate, and complete, to the best of his or her knowledge. If false reports are knowingly submitted, the department head could face penalties up to $20,000. Yahoo!
On the other hand, how sad that officials must make a law that government department heads have to tell the truth!
Here's the truth. The update process of Mammoth's General Plan – brutal. Long. Over. Mayor Skip Harvey and Mayor Pro Tem Wendy Sugimura offer this letter:
Dear Mammoth Community,
The General Plan Update has finally been adopted hooray! A tremendous thank you goes out to everyone who contributed to this success, including Town staff, Commissioners, committee members, advisory groups, the Mammoth Stakeholders, the Advocates for Mammoth and the community in general. Wed especially like to thank the Planning Commission, in particular Elizabeth Tenney and Jo Bacon, for all their hard work rewriting the plan and building consensus. Some say the process took forever while others compare us to cities that have taken two or three times longer and are still not finished; but regardless, were now done! Thank you!
A few highlights should be mentioned about the most contentious General Plan topics starting with (what else?) the Bell Shaped Parcel. The final solution balanced the community-articulated value of open space with the recognition that public monies must be used responsibly. While the vote was not unanimous, the Bell was zoned Resort with a Focused Special Conservation Easement Study designation. The Study assesses the opportunity for a central park in order to maximize recreation opportunities, preserve open space, and protect sensitive environmental resources. No action may be taken inconsistent with these objectives without a General Plan Amendment. The Study overlay leaves open the possibility of financial remuneration through a conservation easement. Other final issues of concern included a stronger definition of Districts and District Planning, strict conditions for density increases in the Commercial zones, no density transfers between Districts except for environmental protection purposes and improved air quality protection policies.
Through the General Plan Update process we accomplished a great deal more then just mapping a general vision for our future we started working together as a community towards common goals and interests. We hope the spirit of cooperation and collaboration will become a hallmark of all our community discussions and activities.
Now that we decided on our direction, it is time to plan a more detailed route to take us there. Open communication, clear public processes and ensuring connections between our community, our built and natural environment, and our economy will be essential to developing our Town character. We look forward to working with you as we move into the future.
Thank you,
Skip Harvey, Mayor
Wendy Sugimura, Mayor Pro Tem
Signing off on Bureaucrat Beat, this is Benett Kessler