Bishop High School Board members unanimously accepted Superintendent Maggie Kingsbury's retirement letter and approved a contract with Barry Simpson as new superintendent.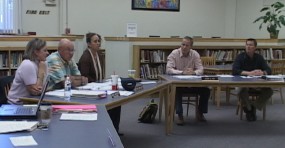 Simpson is already the superintendent of the elementary school district, so the new appointment immediately raises the question of district unification. Should the elementary and high school districts become one? Education officials have kicked this around several times in the past.
Board Chairman Carl Lind said that it was his guess that unification wouldn't work because teacher salary schedules would have to go up to be equitable. But Lind said he feels unification "makes community sense. I'll fight for it as hard as I can," said Lind. "It does make education sense."
Under a shared contract as joint superintendent, Simpson will have to deal with two boards, two offices and four unions. High School Board members said that the County School Superintendent, Terry McAteer, had agreed to look into switching to just one school board between the two districts prior to unification.
A unification study committee will now look into the issues and produce a report sometime in mid-summer. Meanwhile, the elementary school board will vote on Simpson's shared contract when they next meet.