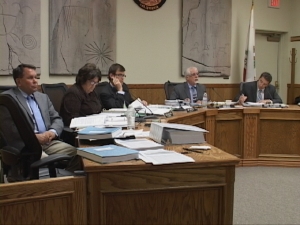 Board of Supervisors Set to Consider Voluntary Separation Incentive Plan 
On Tuesday, the Board of Supervisors will consider a Voluntary Separation Incentive Plan as one of many strategies the County is pursuing to close its budget gap. If all 28 positions contemplated for the program voluntarily choose to enroll in the Plan, the County's General Fund will save $569,845 in Fiscal Year 2014-2015, and an additional $767,175 in Fiscal Year 2015-2016.
Under the Voluntary Separation Incentive Plan, certain job classifications recommended by County department heads will be eligible, on a department-by-department basis, to receive up to $15,000 in a one-time cash pay-out to leave county employment by a date certain. The County will achieve budget savings either deleting the resulting vacant position, or replacing with a lower level classification.
"The saving the County will see from the VSIP will be substantial and help out our budget," said Sue Dishion, Deputy Personnel Director. "Just as important, it will create opportunities to re-assign and share staff among departments, generating even more savings. This could help to minimize the need for involuntary layoffs, and help us preserve jobs and services to the community."
The purpose of the Voluntary Separation Incentive Plan is to allow and encourage County departments, working with County Administration, to plan how best to align the County workforce into a leaner organization while simultaneously minimizing the broader, negative impacts of employee layoffs. The Separation Plan presents an opportunity for departments to offer lump-sum, post-separation payments to selected classifications as an incentive for eligible employees to voluntarily terminate employment from the County.
Eligible employees who voluntarily leave County employment afford departments the opportunity to minimize or avoid involuntary separations, and enable job sharing between departments. By providing a separation incentive, the County departments may be better poised to strategically plan their future resources, realize financial savings, and avoid involuntary layoffs.
Consequently, the department heads have been working with County Administration to identify classifications throughout the County that are eligible for participation in the Separation Plan.
Based on recently submitted department budget requests, the County's structural deficit in its General Fund exceeds $6.3 Million. Until the departments submitted their budgets last month, the deficit was expected to reach $5.1 Million. Next year, in Fiscal Year 2015-2016, the deficit is expected to grow by another million dollars. The Board of Supervisors has set a goal of reducing the structural deficit to $3 Million by the time it approves a balanced budget in September.
The Board of supervisors is expected to consider the Voluntary Separation Incentive Plan during the morning part its meeting agenda on Tuesday, July 15th in Independence.