Very high winds slammed southern Inyo Sunday afternoon, throwing a tree into phone lines and tossing a trailer on its side off Highway 395.
Around 5pm, winds ratcheted up and blew down two or three dead trees in the front yard of an uninhabited home just a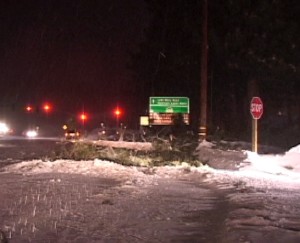 block off Highway 395 in Independence. One big tree fell right on phone and cable tv lines running down the alley by the home.
The tree bounced on the wires as the wind continued to blast through town. The Independence Volunteer Fire Department responded, blocked off the street and alley and called for help. A DWP crew with an elevated truck pulled up to the tree and systematically cut pieces off of it until all branches were off the lines and the rest of the tree fell.
About 15 minutes later another fire call went out. A man driving a truck which was pulling a long trailer ran into trouble about 10 miles north of Independence.
The wind blew the trailer over on the side of the highway. The man at the scene said his name was Larry Lehigh of Bishop. No one was hurt. The trailer contained a motorcycle and another vehicle.