Wednesday afternoon a brush fire broke out high up in the Buttermilks west of Bishop. Fierce winds drove the fire into 100 fireacres in a few hours. Inyo Sheriff Bill Lutze was on scene almost immediately to assess the situation. He and other officers and agencies evacuated campgrounds in the area and prepared for possible evacuation of the Starlite community, although the fire burned strongly to the north, away from the homes.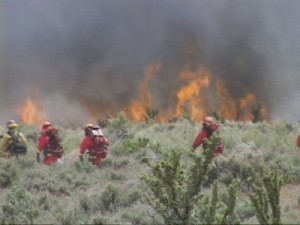 John Louth of the U.S. Forest Service reported Wednesday afternoon that the fire had grown to between 75 and 100 acres. Although there are campgrounds in the area, authorities said they could not confirm the cause of the fire. Louth said eleven engines were on the blaze which was several miles to the north of the boulders in the Buttermilks. Engines came from the Forest Serivce, CalFire, Bishop Fire and BLM, according to Louth. He also said that the Forest Service and DWP brought in three dozers. 6 crews of firefighters worked the blaze from the Forest Service and inmate crews.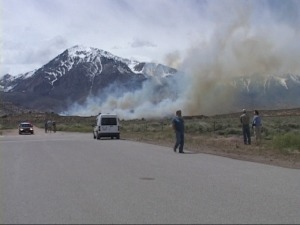 Louth said officials did order larger resources, including air tankers, to help, if winds allowed. As of Wednesday afternoon, the fire burned strongly to the north and northeast. No homes were threatened, although residents of the Starlite community to the south of the fire watched nervously. Some homeowners put hoses on their roofs in case the wind switched and the fire started to burn toward their community.
Authorities also stood ready to evacuate Starlite if necessary. Louth said that the fire was not heading toward Bishop.