Bruce Charles Dishion was born on June 12, 1948 in Merced, CA and passed away on January 27, 2018.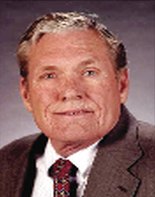 He moved to Bishop, CA in his high school years and graduated from Bishop Union High School in 1966.
He married his wife, Sherry Dishion in 1967. They were married for 51 years
and raised three children, Deston, Shane and Stacy.
Bruce joined the Bishop Police Department on October 1, 1972 where he worked his way through the ranks and became the Chief of Police in 1996. He retired in 2002 after a 30-year career with the Bishop Police Department.
Bruce loved to hunt and fish but was most proud of his grandchildren and all their
achievements.
Bruce is survived by his wife, Sherry; son, Deston and wife, Sue; son, Shane and wife,
Keri; daughter, Stacy and husband, Kevin; grandchildren, Dylan and Zayne Dishion and
Cayley, Sadie and Sophie Dishion, Matthew and Katie McLaughlin.
Funeral services to be held
on Friday
, February 9,
11 a.m.
at the Church of the Nazarene in Bishop, CA. There will be a Celebration of Life following the services at the Eastern Sierra Tri-County Fairgrounds, also in Bishop.