Submitted by Jennifer Hansen, MCSO Public Information Officer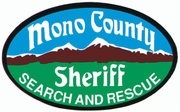 On Friday September 9, the Mono County Sheriff Search and Rescue (SAR) Team responded to rescue an injured backpacker near Iceberg Lake, who was reported as having a leg that was "broken from the knee down," and was also possibly going into shock.
A SAR medical team and a support team with a wheeled litter and additional oxygen hiked through the night to the patient's location, while helicopter service was arranged for the morning.  The first team reached the patient at 12:22 on the morning of the 10th.  The patient, a 74-year old backpacker from the Bronx, had fallen an unknown distance and had a number of lacerations and contusions.  The team provided care to the patient and stayed with him through the night.  California Highway Patrol Helicopter H40 arrived at 6:50 and transported the patient to Minaret Vista for final transport to Mammoth Hospital by Mono County Paramedics.