After countless hours, days and months of workouts, practice, bus rides and games, the Bishop Union High School football team is one win – 48 minutes – away from a championship.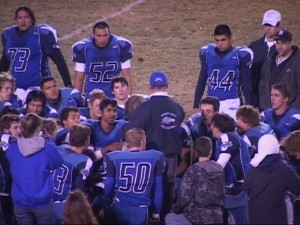 The Broncos reached the title game with another impressive victory, beating visiting Pasadena Poly 44-14 Friday night at John Schwab Field.
Bishop will face Boron for the Northeast Division championship Saturday at home in the CIF-Southern Section Ford Championships, Presented by Farmers.
It's the first title appearance for Bishop coach Bill Egan, who has guided the Broncos into the playoffs in each of his 10 seasons, five times reaching the seminfinals.
Bishop (12-1) won its eighth straight game in the final four win against Pasadena Poly (9-4), again dominating defensively and wearing down another opponent with a potent, multi-player attack on offense.
Junior quaterback Chance Callahan (136 yards rushing on 13 carries) started the Bronco scoring with a nifty 38-yard touchdown run, but Poly answered right back with a 48-yard TD pass from Hunter Merryman to Jack Porter.
Bishop's Kiko Gonzales quickly answered with a 64-yard TD run, and Cody Rigney's 33-yard field in the second quarter gave the Broncos a 17-7 lead.
The Broncos extended their lead 27-7 into haltime after Kyle Goin capped a solid drive with a 12-yard TD run – featuring an all-world stiff-arm – and Rigney kicked a 24-yard field with one second left in the second quarter.
The Bishop offensive line, led by Schain Thompson, Steven Orihuela and Matt Doonan, with Joe Robertson, Roman Amisone and Ermilo Arias, controlled the interior again, powering the Broncos to 440 yards rushing.
Bishop had to settle for field-goal attempts on two drives to open the second half, one blocked and Rigney hitting a 25-yarder for a 30-7 lead. Aaron Puls bulled in from eight yards out for a Bishop TD, and after Poly scored on a Merryman TD run, the Broncos' Jaime Ruelas rounded out the scoring with a 74-yard TD run.
Oriheula had an excellent game to help lead the Bishop defense, with 11 tackles. Arias, in his second game back after missing four games with a knee injury, had a team-high 13 tackles and a few bone-jarring hits.
Thompson had 11 tackles, Gonzales 10, Puls 7, with Thumpsa Shoshone and Alec Simpson 7 each. Goin had an interception and a forced fumble, another great all-around game for the Bishop senior.
The Broncos now face Boron for the Northeast Division title. The Bobcats defeated vistiting Vasquez 18-7 Saturday in the other semifinal.
Notes: Saturday's title game at John Schwab Field will start at 6 p.m., as both schools agreed to the earlier kickoff.
Boron (12-1) tied for the Desert Mountain League title with Desert Christian-Lancaster and Vasquez, but lost coin flips, with Vasquez desiginated as the No. 1 team from the DML and Desert Christian was No. 2, with the Bobcats receiving an at-large berth in the playoffs.
Boron was ranked No. 2 behind Bishop when the regular season ended, but since the Bobcats lost the coin flips, CIF by-laws dicate they could not be seeded higher than the top teams from their league. That gave Rio Hondo Prep the No. 2 seed in the Northeast Division, with Vasquez No. 3 and Desert Christian No. 4.
Boron defeated host Saddleback Valley Christian 50-6 in the first round and visiting Rio Hondo Prep 14-6 in the quarterfinals. Bishop blanked visiting Mojave 41-0 in the first round before a 44-14 road win against Chadwick. Since Bishop and Boron both had two home and one road game through three rounds, the host school for the title game came down to a coin flip, which Bishop won.