Some cool high-school sports history possibly awaits members of the Bishop Union High School or the Oxford Academy (Cypress) baseball teams.
The No. 4-seeded Broncos and the top-seeded, two-time defending champion Patriots will meet Tuesday in the Division 6 semifinals of the CIF-Southern Section Ford Championships at Oxford Academy (3:15 first pitch).
Both teams have won three games in the single-elimination tournament, with the winner facing the winner between the other semifinal of No.-2 Pasadena-Poly and No.-3 Lancaster-Desert Christian.
Oxford Academy is a powerhouse on the baseball field and in the classroom. Reports said the coed 714-enrollment school  is rated the second-best academically in California.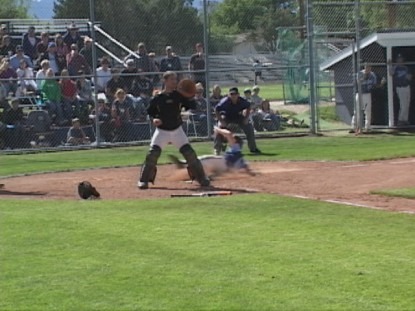 This is the 12th season of varsity baseball, and Oxford Academy has won eight league titles, reached the playoff quarterfinals six times and has claimed the past two CIF-SS Division 6 titles, last season under then first-year varsity coach Cory Williams, who took over from the legendary Dana Bedard, who capped an impressive run of starting the baseball program at Oxford with a section championship in 2009.
So a third-straight Division 6 baseball championship would be a great accomplishment for the Patriots, who need two more victories and have to win the semifinal against the Bishop Broncos, who are gunning for a little history of their own.
Last December, the Bishop football team captured the CIF-SS Northeast Division championship, and a baseball title six months later would be a legendary double-dip for all Broncos past and present.
Three key members of the Bronco baseball team – senior Aaron Puls and juniors Schain Thomson and Chance Callahan – were also two-way stalwarts for the football team.
Puls was a captain and standout running back and defensive back/linebacker hybrid on the gridirion. He plays first base and hits second in the lineup for Bishop.
Callahan was a playmaking quarterback and defensive back, and (makes sense) plays shortstop and bats leadoff for Bishop.
The durable Thomson anchored the Bronco offensive line and was a versatile, tackling machine at linebacker; he plays second base and hits cleanup on the diamond.
The Broncos are 20-2 overall and won the High Desert League championship with a perfect 10-0 record, the second straight title for second-year varsity head coach Tim Reid. Bishop had defeated Yashiva 19-1 and Academy of Academic Excellence 7-1 before shutting out Southlands Christiain 7-0 in the quarterfinals Friday in Walnut.
"Oxford does it with pitching and defense," said Reid, noting just six errors against the Patriots this season. "We like to think we're as good as them, and maybe even (playing) hotter."
Oxford Academy is 25-2 overall, Academy League champions (15-0) and has won 22 straight games following a double-header loss to much-larger Irvine-University in March. The Patriots have beaten Mojave 12-0, Bishop Diego 4-0 and Brentwood 9-4 to reach the semis.
The Patriots have a dominating one-two pitching duo in senior Steve Criss and junior Daniel Lucak, the 2010 CIF-SS Division 6 Player of the Year as a sophomore.
Lucak, according to stats on MaxPreps, is batting .393 with 23 RBIs and 30 runs scored this season. He is 6-1 on the mound, with a 2.52 ERA in 58 1/3 innings, 49 strikeouts and 17 walks and a .233 opponents'  batting average.
Criss have been more dominant, with a .127 opponents'  BA,  going 10-0 with a 1.03 ERA in 67 2/3 innings, striking out 109 while walking 29.
The Oxford Academy pitching staff has allowed just 10 extra-base hits in 27 games.
Criss helps power a potent Patriot offensive attack, hitting .360 with 26 RBIs and two home runs.
Lucas Sardo has a team-leading 34 RBIs and .484 average, with 10 doubles and three triples.
The Higgers – Hayden (.354 with 22 RBIs, two homers) and Harvey (.329, 23 RBIs) are formidable players.
The Broncos counter with a solid hitting and fielding lineup – Callahan and Puls are followed in the order by hot-hitting catcher Keith Tatum, then comes Thomson.
Hitting fifth for Bishop is talented junior pitcher Tanner Cruise, who fired a one-hit shutout with 13 strikeouts in the Broncos' 7-0 in the quarterfinals at Southlands Christian and is the scheduled starter Tuesday at Oxford.
Third baseman Jared Davis hits sixth, followed by right fielder (and No. 2 pitcher) Doug Watterson, left fielder Nathan Coakley and center fielder Taylor Neubauer.
The CIF-SS Division 6 championship game is scheduled for UC-Riverside on Saturday at 3:30 p.m.