UPDATED 10:10 p.m.
The Bishop Union High School football team capped a great season Saturday, winning the CIF-Southern Section Northeast Division championship with a thrilling 30-22 victory over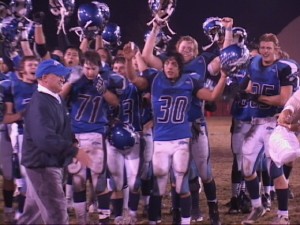 Boronat John Schwab Field.
A huge crowd saw the Broncos jump outto an early13-0 lead, but the Bobcats kept clawing back. Bishop led 16-6 at haltime and went ahead three scores in the second half with a 23-6 advantage before Boron began to rally.
The Bobcats cut the lead to 23-14, but Bishop quickly scored for a 30-14 lead. But the Bobcats came right back with another touchdown and two-point conversion to cut the lead to eight points, or one score.
Bishop was able to hold on for the victory, claiming its first CIF football championship since 1957.
***
Two small but proud communities will be out in force tonight at Bishop Union High School when the host Broncos face the Boron Bobcats for the Northeast Division championship of the CIF-Southern Section Ford Championships, Presented by Farmers.
Both teams are 12-1 on the season, with three victories in the playoffs. Bishop has outscored its postseason opponents 134-34 and Boron 82-20.
Sierra Wave TV33 will provide same-day coverage, starting Saturday at 11:30 p.m. The game will be replayed Sunday at noon, 6 p.m., 10 p.m. and overnight, with replays Monday-Wednesday at 10 a.m. and 1 p.m., with two overnight showings starting at 11:30 p.m.
Boron coach Todd Fink was proud to note it's the first time since 1994 that two public schools have reached the championship game of the CIF-Southern Section's lowest division, when Boron defeated Morro Bay for the title.