Back-to-back – that's what everyone connected with the Bishop Union High
School football team is thinking.
The No. 1-seeded Broncos open defense of their CIF-Southern Section
Northeast Division title Friday, hosting Viewpoint (Calabassas) at John
Schwab Field.
All games in the CIF-SS Ford Championships, Presented by Farmers, are
scheduled to start at 7:30 p.m., unless both schools agree to a time
change.
Bishop rolled to its second straight undefeated High Desert League
championship with a 60-21 victory Thursday at Desert High, the ninth
straight win for the Broncos after a season-opening loss to Sierra Canyon,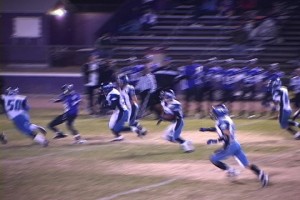 the undefeated No.-1 seed in the East Valley Division.
Viewpoint took third place in the Prep League and earned one of four
at-large berths in the Northeast Division, which has six leagues with the
top two teams from each league earning automatic berths.
The Patriots are 7-3 overall, going 3-2 in league behind No. 2-seeded Rio
Hondo Prep and Chadwick. Bishop beat Chadwick 44-27 to start its winning
streak; Viewpoint lost to Chadwick 26-20 in Prep League play.
The winner of the Bishop-Viewpoint game will play the winner of Desert
Christian (Lancaster) at California Military Institute (Perris).
Bishop would play at Desert Christian since the Broncos are home in the
first round and DC is on the road. Bishop would also play at CMI, which
won a coin flip Sunday against the Broncos at the CIF offices.
Other games in the upper bracket of the Northeast Division are Chadwick at
Mojave and Santa Clarita Christian at No. 4-seed Salesian.
In the lower bracket, Boron, the No.-3 seed and the team Bishop
defeated in last year's title game, will host St. Gevevieve, an at-large
team.
The Boron-St. Gen winner plays the winner of Kern Valley at Saddleback
Valley Christian. Kern Valley received an at-large berth out of the HDL.
Rio Hondo Prep hosts Hamilton, with the winner playing the winner of St.
Monica at California City, the No. 2 team from the HDL.