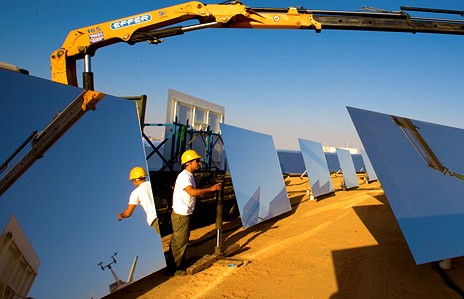 After months of untold staff time, trips to Sacramento and a formal agreement, Inyo County learned Wednesday that BrightSource Energy suspended its permit application for the Hidden Hills Solar Energy project in Death Valley.
Inyo officials had haggled repeatedly with BrightSource over how much the project would cost Inyo County. The County Administrator, Planning Director and other department heads devoted many hours to calculating costs and representing the County at hearings before the California Energy Commission and their staff.
After final hearings went forward, BrightSource issued a statement that said on Wednesday BrightSource "informed the California Energy Commission that it is suspending its permit application for the Hidden Hills…project." The statement goes on to say that "This week, PG&E and BrightSource mutually agreed to terminate the power purchase agreements in connection with the Hidden Hills project due to challenges associated with the project schedule and uncertainty around the timing of transmission upgrades."
BrightSource referred to the need for solar thermal power with storage. They said Hidden Hills is a good site for that type of technology but to change plans would require reopening of the evidentiary record to account for new impacts.
A similar turn of events happened in January when BrightSource and Southern California Edison "mutually terminated" a power purchase agreement for two projects near Blythe, California. BrightSource had asked the Energy Commission to put those projects on hold. BrightSource officials now say they will focus on the Palen project in Riverside County. This project was already permitted by the CEC.
When asked for the County's response to the sudden BrightSource news about Hidden Hills, Inyo County Administrator Kevin Carunchio said, "We received word that BrightSource suspended its permit application Wednesday and were shocked. The project seemed to have a lot of momentum within the CEC process, but it sounds like there were greater issues at play."
Carunchio confirmed that the agreement signed by Inyo and BrightSource runs with the project and so it is suspended as long as the application is but "remains in place if the project is resumed."