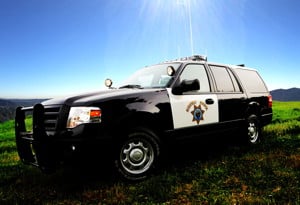 RESULTS OF LABOR DAY WEEKEND
MAXIMUM ENFORCEMENT PERIOD
California Highway Patrol (CHP) Bridgeport Area officers participated in a Maximum Enforcement Period (MEP) over the Labor Day Holiday weekend.  The MEP began Friday, August 29, 2014 at 6:00 P.M. and continued through Monday, September 1, 2014 at 11:59 P.M.  During this period, CHP Bridgeport officers arrested four drivers for driving while under the influence (DUI) of alcohol, while statewide officers arrested 1,168 drivers for DUI.
There were 45 fewer DUI arrests made this year compared to the same weekend in 2013.  While statewide arrests were down, CHP Bridgeport Area arrests were double that of last Labor Day weekend.  The arrests are notable in that each driver's preliminary blood alcohol content was very high.  Three of the drivers that were arrested were apprehended because motorists driving in Mono County called the CHP using 9-1-1 to report the suspected DUI drivers.  Those citizens were concerned enough to call 9-1-1 and may have helped save someone's life.
A total of 27 people were killed in collisions statewide, in all CHP jurisdictions, during this Labor Day weekend MEP, compared with 25 killed during the same weekend last year.  Of the 27 killed statewide, 25 were occupants in vehicles, and two were motorcyclists.  Despite all of the public education that occurs regarding the use of seatbelts, 13 of the vehicle occupants that were killed during the weekend were not wearing their seatbelts.  No pedestrians were killed in CHP jurisdictions over the holiday weekend.