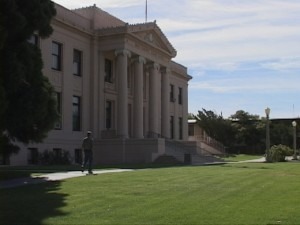 PRESS RELEASE 
August 21, 2014
The Inyo County District Attorney's office announced today that Bishop-area resident Rebecca Bragdon has entered pleas of "guilty" to misappropriation of public funds from the Tri-County Fairgrounds. The pleas arose from charges that she embezzled funds from the Fairgrounds when she was employed as an office manager from July 2012 through July 2013. The matter was originally investigated by the Inland Division of the California Highway Patrol.
Ms. Bragdon plead guilty to violating Penal Code section 424, commonly known as misappropriation of public funds, and Penal Code section 470, commonly known as forgery. Both charges are felonies. Restitution was also set in the case at $25,979.82. Sentencing has been set for October 22, 2014.
Under the terms of an agreed disposition, Ms. Bragdon may be ordered to serve up to one year in the Inyo County Jail and will be placed on five years of formal probation. Probation terms will include requirements that she pay restitution and be subject to search for stolen property, as well as any other terms as may be deemed appropriate by the sentencing court. By entering the pleas, she will also be barred from holding any public office. The term of incarceration will be determined by the court at the time of sentencing.