Press release from Bishop Police Department
Monday morning, Bishop Police Officers, with assistance from the Inyo County Sheriff's Office, Major Investigation and Narcotics Team (MINT), and the Inyo County District Attorney's Office arrested Alfonso McCloud on a warrant charging attempted murder.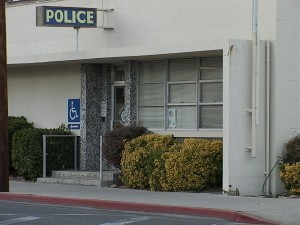 McCloud is 24 years old and a resident of Santa Rosa, CA. The attempted murder charge originated out of Santa Rosa. Information received over the past several months tended to indicate McCloud had fled to Bishop after the incident in Santa Rosa.
Local officers working on tips from Santa Rosa eventually spotted McCloud in a vehicle traveling on W. Pine. St. A high-risk enforcement stop was made on Rocking W Dr. at Highway 395, where McCloud was taken into custody without incident.
McCloud was subsequently interviewed by Santa Rosa Police Detectives and booked into the County Jail. McCloud will soon be transported back to Santa Rosa.
###
Press release from CHP 
On Friday, November 13, 2015, at approximately 3:28 PM, California Highway Patrol (CHP) Bishop Communications Center received a report of a possible hit-and-run traffic collision with injuries.
A description and last known path of travel for the suspect vehicle was immediately broadcast to CHP officers and the information provided to allied agencies. CHP officers from the Bridgeport Area, Mammoth Lakes Resident Post responded to investigate the incident.
A deputy with the Mono County Sheriff's Department was in the area and quickly located the suspect, Mr. Wadsworth, and the suspect vehicle in a parking lot near the scene. The other driver, Ms. Save, drove to her residence after Mr. Wadsworth fled the scene. She was evaluated by Mono County paramedics and transported by ambulance to Mammoth Hospital.
The investigation determined Ms. Save was driving southbound on Crowley Lake Drive behind Mr. Wadsworth. Ms. Save passed Mr. Wadsworth when it appeared he was turning right at the north junction of Juniper Drive. Mr. Wadsworth then continued southbound behind Ms. Save and tailgated her vehicle.
Ms. Save turned right onto Juniper Drive, at the south junction with Crowley Lake Drive, and Mr. Wadsworth continued following at a very close and unsafe distance. As they traveled uphill on Juniper Drive, Mr. Wadsworth's vehicle struck the rear of Ms. Save's vehicle. Mr. Wadsworth then fled the scene and was located a short time later by a MCSO deputy.
Highway Patrol investigators determined this incident was not a traffic collision. This incident was an intentional act by Mr. Wadsworth. Mr. Wadsworth was arrested for 245(a)(1) PC – assault with a deadly weapon (vehicle) and 23153(a) VC – driving under the influence of alcohol and causing injuries to another driver.
This is preliminary information only and the investigation into this incident is on-going.