Bodie was just hitting its stride in 1880 as a wild and lawless mining camp that was trying to become a little more of a civilized town. That tumultuous year and the famed gold mining town is the setting for "No Trees for Shade: Bodie, California, 1880."
The tale of Bodie is the fourth work of historical fiction exploring the Eastern Sierra's pioneer era by Lone Pine author Kathleen Haun, who will be signing copies of the book at the Eastern California Museum on Saturday, May 18, starting at 2 p.m. Light refreshments will be served. The museum is located at 155 N. Grant St. in Independence.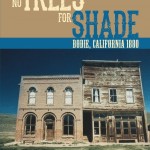 "Kathleen's fourth historical novel once again gives the reader an opportunity to escape into the events that played out in the pioneer towns along the Eastern Sierra," states a press release. "If you ever wondered what it was like to life in the infamous town of Bodie, California during its exciting and fateful peak years, you will now have the opportunity via the year 1880. Kathleen's fans will recognize some of the people in the book, both real and fictional, from her previous novels – but will also enjoy meeting new people whose lives are dramatically changes simply because they chose to live in Bodie."
And Bodie was quite the place in during its booming years. In July 1878, one newspaper reported the town had 27 saloons and 13 law firms (no mention of whether those two facts were related). By the end of 1878, the Grass Valley Union noted that "Bodie has a population of 5,000, including the suburb around the Bodie and Standard Mines. Main Street is nearly one mile long and lots are staked off in all directions on the hillsides. Average arrivals are about 30 and all departees intend to return. … There are 47 saloons and ten faro tables. This is not a disparagement of the district but evidence of its prosperity."
Haun's characters move through the booming Bodie, and encounter all the camp has to offer, from hard-drinking miners to lawmen to respectable citizens trying to make a life in the fastpaced mining camp.
That prosperity did not last. By 1882, harsh winters and mine closures resulted in a declining population and the town's many empty buildings being torn down.
All of Haun's novels celebrate the early history of the towns along the Sierra and the pioneer spirit of its citizens. Her previous novels, which are also available for sale, are "Dear Carrie, Letters from the Eastern Sierra 1878-1899," "Passing Storms," and "Moving On."
The museum is located at 155 N. Grant St. in Independence. For more information, call 760-878-0258.