Celebration and Remembrance of "Our Bonnie" Zwart
Bonnie Marie Zwart, Bishop, California, beloved wife, mother, grandmother, great grandmother, daughter, sister and aunt joined loved ones passed before her on Saturday, March 24, 2018. Bonnie passed peacefully at Bishop Care Center from Parkinson related issues and was surrounded by family and close friends as well as a caring and loving nursing staff.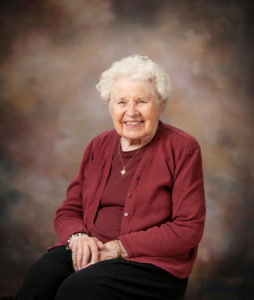 Bonnie was born January 12, 1926 in Sioux City, Iowa to Margaret and Alonzo Andrews. Bonnie is survived by her children, Steve & Janice McMann-Zwart of Bayfield, Colorado; Marty Zwart & Terri Fernandez of El Centro, California; niece and nephew Margaret and Tim Alyea of Greensboro, North Carolina. Her grandchildren and great grandchildren, Daniel, Amy, Birdie and Dayle Zwart; Haleigh, Jacob, Hunter, Clay and Axel Waitman; Michael, Mariya, Jacey & Jack Zwart children of late Jason Zwart.
Bonnie was preceded in death by Joseph "Joe" Zwart, her husband of 61 years, her grandsons Jason and Eric Zwart, her parents Margaret and Alonzo Andrews, her sisters Mae Bosse, Betty Kaplan and brother William "Bill" Andrews.
Bonnie grew up in Sioux City, Iowa and Los Angeles, California.
Bonnie and Joe moved to Mammoth Lakes, California in 1957 where she made "Mammoth" their family home for 54 years. In 1963 Bonnie and Joe opened the Zwart House Family Lodge. There many families made memories and long lasting friendships.
In 1993, Bonnie was named "Woman of the Year" by the First Senatorial District in recognition of her many years serving and volunteering the Mammoth Lakes community. Bonnie was one of the founding members of the Mammoth Hospital Auxiliary known as "The Castoff". Where she proudly served, supported and worked for 34 years alongside dear friends, many who have passed before her.
But Bonnie's most cherished accomplishment was a loving, caring Mom to Steve, Marty, Margaret, Janice & Terri and Grandma to her 4 grandchildren and 9 great grandchildren.
October 2011, Bonnie moved to Sterling Heights in Bishop, California where she resided until January 2018. She was loved and cared for by an awesome team of directors and caregivers.
Bonnie was a faithful and devoted member of St. Joseph's Catholic Church, Mammoth Lakes, California for 54 years. After moving to Bishop, California she joined Our Lady of Perpetual Help Catholic Church. She was a woman of great faith, grace and compassion.
Remembering Bonnie will be easy – just think of her smile, a touch, kind words of encouragement, calling you "Hon", strawberry shakes, soothing hot tea, positive attitude, flowers, pink hats and love of her Sierra Nevada mountains.
We love you Bonnie and will always carry you in our hearts and on our shoulders as "our" special Angel!!
A Mass will be held at Our Lady of Perpetual Help Catholic Church Saturday, July 14 at 10:00 AM. Immediately following the Mass please join the Zwart family for a Celebration and Remembrance of Bonnie's life "Tea Party". In lieu of flowers, the family requests donations sent to Mammoth Hospital Auxiliary Scholarships, P. O. Box 1399, Mammoth Lakes, California, 93546 in name of Bonnie Zwart.