Inyo County Sheriff's Office press release
On Thursday July 6th, 2017 the Inyo County Sheriff's Office was notified by a group of Pacific Crest Trail hikers that a body was discovered approximately 300 feet off the Bishop Pass trail in a talus slope.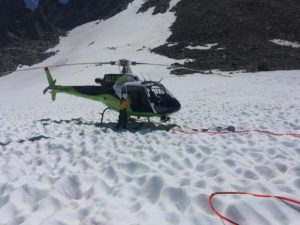 The morning of July 7th, a recovery operation was initiated with aerial support provided by Sequoia and Kings National Park. After transporting the remains to the Inyo County Coroner, the body was officially identified as Robert "Bob" Woodie, a 74-year old missing hiker from Manhattan Beach, CA.
A large-scale multi-agency search and rescue for Mr. Woodie began October 18, 2016 after receiving notification that he was an overdue hiker. Mr. Woodie was supposed to have returned from a backpacking trip on Sunday October 16th, 2016; he was familiar with the area but hiking alone.
Mr. Woodie's route was from South Lake, outside Bishop, CA, into Sequoia and Kings National Park via Bishop Pass. There was a significant storm front during this time with high winds and freezing conditions.
The search area consisted of Bishop Pass, Dusy Basin, Barrett Lakes, and the John Muir Trail/Pacific Crest Trail between Muir Pass and Mather Pass. More than 130 personnel participated in the multi-agency search. On October 28th the search was suspended after both aerial reconnaissance and ground searchers were unable to locate Mr. Woodie. High winds, snow, and freezing conditions made searching unsafe and locating clues became impossible.
At the time this press release was issued, cause of death had not yet been determined.