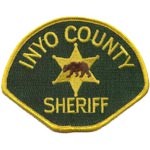 by Carma Roper, Inyo County Sheriff Public Information Officer
On May 17th Department of Water and Power notified the Inyo County Sheriff's Office that a possible deceased person was spotted in the Haiwee Reservoir.
Sheriff's Deputies and Investigators, as well as Olancha Volunteer Fire Department and Inyo County Coroner, responded to the location and were able to locate the victim.
An autopsy was conducted and determined that the victim was Alan Carter Brown a 42 year old man from Inyo Kern, California.  The cause of death is still pending.
Sheriff's Department determined that Brown was the same subject that officers pursued on the evening of May 10th.  Brown's vehicle became disabled when it hit a guard-rail in his attempt to evade officers, after which he took off on foot.  Brown was last seen running east-bound from Highway 395 on the aqueduct road.
The investigation is on-going.