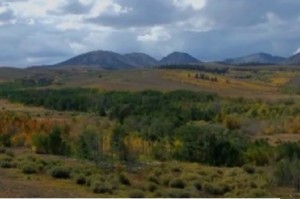 20 years ago, the Bureau of Land Management in California followed directions from Congress and designated dozens of Wilderness Study Areas – land to be considered for Wilderness or not.  Today, BLM still manages some 80 WSAs in our state.  One of them contains the Bodie Hills and an ongoing controversy which was repeated somewhat on Tuesday.
The people closest to the area seem to favor getting rid of the Wilderness Study Area designation.  Many others fear that move would open the door to major mining in the Bodie Hills.  A few months ago when Cougar Gold Mining asked the Mono Supervisors to support removal of the Bodie WSA, the public objected in the boardroom and the Supervisors declined.
Tuesday, Supervisor Tim Hansen, who represents Bridgeport in his District 4, asked the Board of Supervisors to consider a resolution from the Bridgeport Regional Planning Advisory Committee.  The resolution discussed removal of the Bodie Hills Wilderness Study Area.  Hansen pointed to a night meeting in Bridgeport after the earlier Cougar Gold meeting and the fact that virtually the entire room raised hands in support of removal of the WSA.
Hansen said he wanted to support his constituents and so brought the issue back to the Board of Supervisors.  Hansen said he pointed to "protection of what we have."  Mining, he said, is another issue that would be handled by BLM if anyone ever made a proposal.  The Wilderness Study Areas, Hansen said, were never designed to lock up an area indefinitely.
Hansen made a motion to acknowledge the Bridgeport RPAC resolution and pledge to the citizens of Bridgeport that there would be a future public dialogue on the Bodie Hills.  There was no second to his motion. "I was really disappointed," said Hansen.  He suggested that there should be a multi-use discussion on Bodie Hills.  "We can leave mining to the BLM," he said.