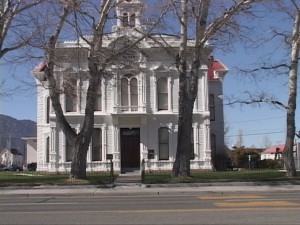 As the federal government shutdown drags on with more negative impacts surfacing daily, the Mono Supervisors decided to write to the Inyo-Mono Congressman, Paul Cook. Their letter urges an immediate end to the shutdown.
The Supervisors' letter says, "We want to remind you that the continued absence of funding for federal departments and agencies has impact on local government programs and the constituents we serve."
The Mono Board says that many important local programs and services could be halted, including some Health and Human services programs, like Mono County Women, Infants and Children Program, housing activities and justice initiatives.
The Board's letter also reminds Congressman Cook that the local economy depends on tourism with much of that generated by visitors to Yosemite, which has been closed along with all other national parks. The letter also says that meetings between county staff and federal agencies on many projects have been cancelled as a result of the shutdown. The Board says, "This lack of federal staff availability is impacting our Public Works Department, Economic Development and Community Development."
The Mono Board's letter urges an immediate end to the government shutdown "without addressing current concerns related to the Affordable Care Act." Developments in Washington over the weekend hinted that Republicans may take the route suggested by the Supervisors. They will decide on sending their letter when they meet Tuesday.
The Board will also consider a letter from Helene Frakes of Bridgeport who points to the Bodie Road and calls its condition "deplorable." She urges the Supervisors to work with local and state officials to improve the road as soon as possible. Frakes is a summer volunteer at Bodie and knows the road. She says it must be a terrible experience for tourists from other countries who have rented RVs. Frakes said in August two visitors had their vehicles' oil pans punctured by rocks on the road.
And the Mono Supervisors will also consider waiving Transient Occupancy Tax penalties for Yosemite Gateway Motel for third and fourth quarter taxes. Director of Finance, Leslie Chapman, has suggested the Board discuss the issue and the overall impact on the countywide TOT processing procedures. Owners of the Yosemite Gateway Motel said the Rim Fire seriously hurt their business, and the government shutdown of Yosemite may have further hurt.