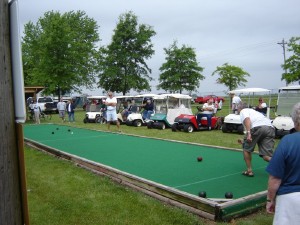 What's Bocce? It's not billiards, not shuffle board, not bowling – but kind of in between somewhere, and some say it's the fastest growing sport right now. Local artist Skandar loves Bocce and convinced the City of Bishop to give it a go.
Skandar said he started the Bishop Bocce Club about four months ago. Club members have played on the parking lot at Millpond. Skandar proposed official courts to City of Bishop Community Services Director Keith Caldwell. "He was open to it."
The Club launched a fundraiser to get courts built at City Park next month just off of the tennis courts. At the Millpond Music Festival this week-end, the Club will offer free demonstrations, clincs and games behind the artists at the ballpark.
"We're going to sell t-shirts," said Skandar. "We hope a lot of people will come and play on our portable courts. Kids, too." He called it one of the fastest growing sports in America. Once t
Skandar said the City of Bishop will construct and maintain the compressed DG Bocce courts. He sees this as a big opportunity to attract the growing number of Bocce fans to Bishop for a day or two.
The Bishop Bocce Club boasts 108 members. Check it out at the Millpond Music Festival, Saturday and Sunday.