Barbara Louise  Mandich (Bobbie), longtime Bishop resident and descendant of local pioneer families, passed peacefully in her home on June 9, 2015.  Bobbie was born on October 30, 1923, in Downey, CA, to Verle and Pearl Brown.  She attended school in Norwalk, CA, graduating from Excelsior High School.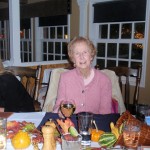 She enrolled in classes at Long Beach City College, then met Nick Mandich, Jr., the love of her life, married him on June 5, 1945, and moved to Bishop.  She raised  her three children and helped with the family business, Owens Valley Drug Co.  Bobbie also pursued many other interests, among them piloting her airplane (a true passion!) traveling the world,  creating stained glass, playing bridge, belonging to Rotary International, supporting other service groups, and spending time with dear friends in the area.
On Mother's Day this year, when asked if there were anything she still wanted to do in life, she responded, "I've had a fortunate life.  I've been everywhere I've wanted to go and done everything I've wanted to do."  Bobbie is survived by her children, Nick Mandich III, Neal Mandich, and Patti Mandich, their spouses and partners, grandchildren and great-grandchildren, who will miss her very much.
A celebration of life service will be held on Tuesday, June 23, at11:00 a.m., at First United Methodist Church, 205  N. Fowler Street, Bishop, CA, followed by a light luncheon.  In lieu of flowers, please make a donation in her honor to Rotary International.